College Football Playoff predictions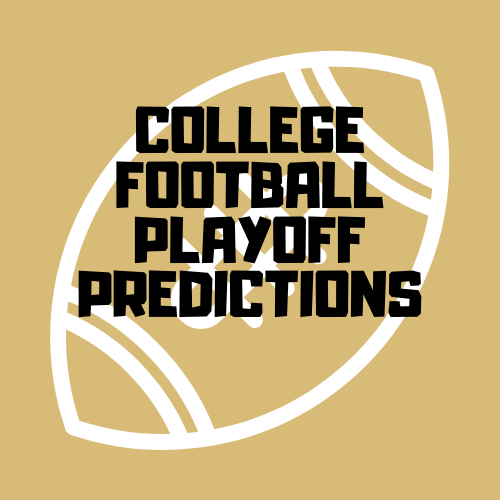 Now that the college football regular season is over and the final rankings have been set, it is time for the sixth annual College Football Playoff. This year, number four ranked Oklahoma University will face off against the number one ranked Louisiana State University in the CFP semifinals in the Peach Bowl. The defending national champion, number three ranked Clemson University, will play number two ranked Ohio State University in the Fiesta Bowl. Each team looks to come out on top in this first round, as a win will continue their road to the CFP championship game at the Mercedes Benz Superdome in New Orleans.
#1 LSU vs #4 Oklahoma
 LSU is lead by breakout quarterback Joe Burrow, who has been tearing up opposing defenses as of late and is the front runner for the Heisman Trophy. Most recently, in the SEC championship game, he posted a 74 percent completion percentage, throwing for 349 yards and four touchdowns, completely obliterating the Georgia defense who had been one of the most stout teams in the country coming into the game.
Looking ahead to their game versus OU in the Peach Bowl, we should see another episode of the Joe Burrow show. OU just came off an overtime victory against the number seven ranked Baylor University, where we either saw that Baylor is actually pretty darn good and can almost beat a top-four team with their second and third-string quarterbacks, or  that OU is not nearly as strong as we thought they were. However, despite OU's struggles, their quarterback Jalen Hurts spent the past three years of his career playing and having success against SEC defenses. We could be in for a surprise showing from Hurts, who will look to prove himself in possibly the final game of his senior season.
Because of the continued success that Joe Burrow has had throughout the whole season against his SEC opponents and the struggles that OU has had finishing games and getting ahead versus top-ranked teams while also having a quarterback that previously played SEC opponents, this is where our predictions lie:
Spencer: LSU 28 – OU 17
Hunter: LSU 41 – OU 20
#2 Ohio State vs #3 Clemson
Clemson is riding a hot streak coming into the Fiesta Bowl, winning their previous nine games by 35 or more points. Regardless of the fact that Clemson has only been playing ACC teams who have proven to be very weak, this is still an impressive feat. Quarterback Trevor Lawrence has seemingly flown under the radar, despite carrying his team to an undefeated record coming into the playoffs. He will look to lead his team to yet another national championship.
Ohio State, on the other hand, has been anything but under the radar. They have been lead by standouts on both the offensive and defensive side. Justin Fields, their quarterback, is a serious Heisman candidate, and as a sophomore, has had undeniably impressive stat lines game in and game out. On the defensive side, no other team in the country wants to see the beast that is defensive end Chase Young. Young has proven to be the most ferocious defensive player in the country, boasting a sack count that just broke OSU's all-time school record of 14 sacks. There is no doubt that he will have his crosshairs on Lawrence all night long.
Keeping in mind Clemson's long-running hot streak and the unbelievable strength on both sides of the ball for OSU, we should expect to see a game that is decided on whoever makes the least amount of mistakes when it counts. Here are our predictions:
Spencer: OSU 24 – Clemson 21
Hunter: Clemson 27 – OSU 20
Our final predictions for the championship game:
Spencer: LSU 28 – OSU 24
Hunter: LSU 28 – Clemson 14
Author
Spencer Wasmund, Sports Editor
Spencer Wasmund is a senior and a first-year Sports Editor for the Statesman. When he isn't writing for the Statesman, Spencer enjoys playing football...
Hunter Hauck, Staff Writer
Hunter Hauck is an LHS senior and first-year Statesman staff member. Hauck is kept busy with Student Council, Best Buddies, tennis and other clubs. Outside...