LHS JROTC named National Naval Honor School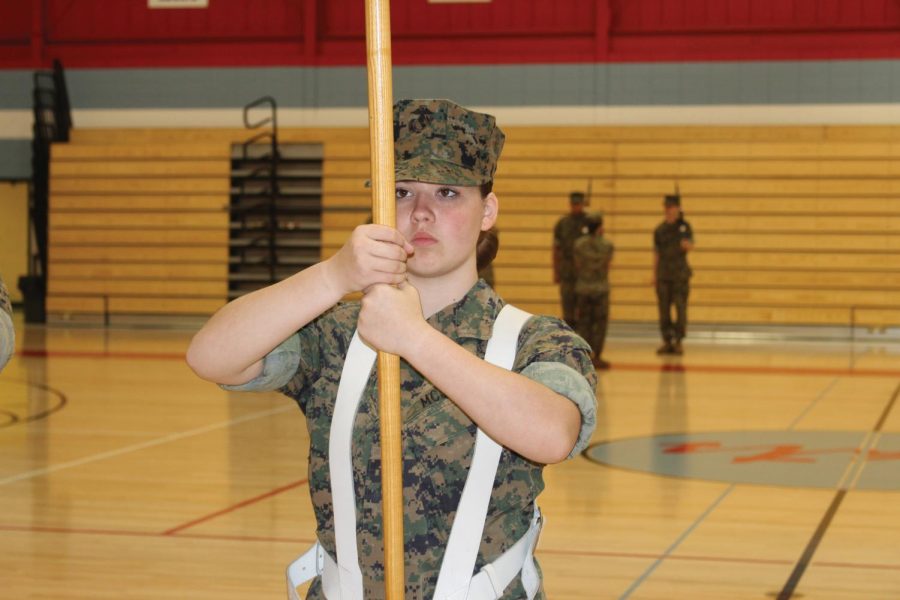 As one walks down the halls of LHS on a Wednesday, they are bound to see at least one student wearing a camouflage green uniform with the letters JROTC embroidered on the front. Those who are not involved in this program often misinterpret the class as a whole, thinking that everyone who joins intends to join the military, but that is surely not the case.
Junior Reserve Officer's Training Corps is a program that is present in high schools throughout the nation. It instills responsibility, respect and leadership skills into the students who are involved. The JROTC program at LHS has always been quite successful but the students were given credit for their diligence this year by being named a National Naval Honor School. This honor is given to the top 20% of all Marine Corps schools nationwide and is based on multiple criteria: community service, public affairs, scholarships, student activities, competitions and academic awards. 
LHS JRTOC earned this award not only through great examples set by both SgtMaj Scott Bakken and LtCol Brian Harwell, but through the commitment of the students, as well. 
"First of all, the credit goes to all of the cadets," said Bakken. "My name is not up there. Their names are up there and their scholarships, activities, community service hours and academic awards are what go into competing, so they get all of the credit for this."
The program greatly depends on the devotion of the cadets in order to stay afloat. Because there are so many students involved, it is crucial that leadership skills are instilled in the students from the very beginning so they can help lead those who come after them. 
 "I started ROTC my freshman year and starting off we had very good leadership," said sophomore cadet Sarah Miller. "We had a very large freshman class which gave us the opportunity to train lots of new cadets to a standard that is very high because we always push ourselves to the limits of what we can do to be the best that we can be."
Not only do the cadets lead those who are less experienced than them at school, but they take the time out of a regular school day to ensure that they do all they can to make the community a better place. 
"Part of our senior grade is to organize, plan and supervise a volunteer project with at least 10 cadets for a couple of hours and many times it's more than just a couple of hours," said Bakken. "But they go out and they do anything from the Banquet to the Humane Society or Project Warm Up… but it is not me out there leading it, it is the senior cadets leading it."
Those who are a part of JROTC have the opportunity to join extracurriculars within the program including color guard, air rifle team and drill team. However, one must dedicate a great amount of time and effort in order to be involved in these activities. 
"Our drill team practices are before school and those are an hour long so we start at 7 a.m. and they go to 8 a.m. When we are not close to a competition, we usually have Monday and Thursday practices that are mandatory and we get an extra half credit for being involved," said Miller. "We also get an extra half of a credit for air rifle team and those practices are for an hour after school on either Tuesdays or Thursdays."
The countless hours that the cadets spend together at practices and competitions lead to a special bond between all of the members of the program. 
"I am really happy with my decision to join JROTC," said Miller. "My favorite part is the camaraderie and the sense of family that we have. We become very tight knit in the program because we do a lot of things together and spend a lot of time together."
Overall, JROTC enables the cadets to learn and practice their leadership skills that will aid to their success following high school. 
"I hope that we as instructors, myself and LtCol Harwall provide and motivated leadership atmosphere where cadets want to succeed," said Bakken. "Not just here, but in all facets of their life. We provide an opportunity for them and we have great cadets."
Author
Taylor Ericson, Editor-in-Chief
Taylor Ericson is a senior and one of the four Co-Editors-in-Chief of the Statesman. Aside from writing for the Statesman, she is involved in many other...