The NCAA receives backlash after suspension of James Wiseman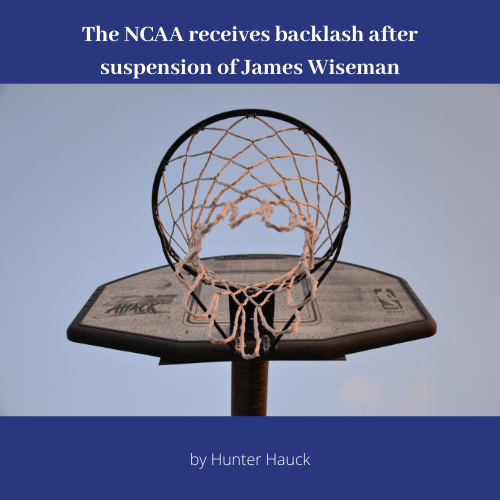 While resolve regarding athlete's pay in the NCAA is starting to come to fruition, controversy involving money allocation is still a prominent issue within the organization.
James Wiseman is a freshman basketball player at Memphis who was believed to be the best recruit in the 2019 class. Recently, he was suspended for 12 games and forced to make an $11,500 donation to charity, the amount given to him from Penny Hardaway. Wiseman's mother accepted the funds from Hardaway in order to help her and her son move from Nashville to Memphis. Hardaway who played several years in the NBA and went to Memphis himself had previously made donations to the school. Because Hardaway was considered a booster by Memphis, the money given to Wiseman is prohibited under NCAA rules. 
The punishment that Wiseman faces is now at the forefront of discussion surrounding  NCAA men's basketball. It raises many questions as to whether or not Wiseman is deserving of such punishment.
While the NCAA seriously punished Wiseman, their actions were not baseless. Wiseman broke a rule and, while the decision is disagreeable to many, it is within the NCAA's power to punish him. Also, it is redeeming that the NCAA did not collect the money straight from Wiseman and rather enforced that it be given to charity. 
Many opponents to the decision have disagreed with the fining portion of the punishment. Because college-athletes don't get paid, but are merely allowed to make money off of their names, there are questions as to whether or not a fine can be enforced. How can the NCAA enforce a fine when they don't even pay their athletes? People like Democratic presidential candidate Andrew Yang and former NBA player Jay Williams have voiced their opposition to this decision, as well as the many people rallying behind Wiseman in the form of a GoFundMe fundraiser. However, fundraising does not fall within the lines for repayment requirements in the NCAA.
As strides are being made towards allowing college-athletes to get paid, there are still many rules in the NCAA that have strong resistance. And though the NCAA's suspension and fining of Wiseman are justifiable, previous rules in the NCAA have been overturned in the past. With growing concern forming around the actions of the NCAA, problems like this are sure to arise again. 
Author
Hunter Hauck, Staff Writer
Hunter Hauck is an LHS senior and first-year Statesman staff member. Hauck is kept busy with Student Council, Best Buddies, tennis and other clubs. Outside...