TikTok trouble
Hit or miss? I guess the CPC never misses, huh?

TikTok seems to be in a bit of hot water. In February, its parent company received a $5.7 million fine from the FTC for COPPA violations, in November Reuters reported that the U.S. government is opening an investigation into the app and parents are increasingly vehement in their opposition of the app. "This is absolutely disgusting and horrifying and not even appropriate for 18 year olds in my book. Do not let your child on," wrote one user on Common Sense, a review site for parents. There is a lot of concern surrounding the app. But Is TikTok just another app that boomers can't understand, or is a legitimate threat to minors? 
I first downloaded TikTok in September of 2018 after seeing a few humorous TikToks on Instagram Discover and ads on Snapchat. Fresh off of its merger with Music.ly, TikTok felt very new. There were plenty of people posting, from U.S. military members flexing their bench-press maxes to teens with Airpods staring into their iPhone Xs's and wishing life was better. Each teen put a small part of their heart into each video as the string lights in their room twinkled in the background. With an original idea—or by being attractive—anyone could get millions of views, finally attaining the ecstasy that is TikTok fame.
One year later, TikTok has broken even further into the mainstream. At the time of writing, TikTok was the 2nd most popular free app on the App Store, beating out Netflix. YouTube, which also ranks below TikTok in downloads, saw a flood of TikTok compilation videos. But it hasn't been a perfect year for the app's makers. The Federal Trade Commission fined ByteSpace, TikTok's parent company, $5.9 million in February after it refused to take action in response to the numerous accounts made by children under the age of 13. According to FTC chairman Joe Simons, ByteSpace knowingly collected personal information from kids who did not have their parents' permission, which is a direct violation of COPPA, the law that regulates what services companies can provide to underage users online. 
Since the fine, TikTok has made a separate account type for kids under 13, allowing younger users to use the app without a personal profile. But the number of underage kids using the app isn't even regulators' highest priority. The chief concern is that ByteSpace, which is located in Beijing, is actively censoring content on the platform that doesn't align with the Communist Party of China. These concerns are especially prominent in Washington, where lawmakers are increasingly on edge about Chinese interference in American affairs. 
"If you don't know what TikTok is, you should," said Senator Josh Hawley (R-MO) in a Senate subcommittee hearing in November. "TikTok's Chinese parent company imposed strict rules on what could appear on the app, in keeping with China's restrictive view of acceptable speech."
TikTok has repeatedly claimed that U.S. users' data is not stored on Chinese servers. But Hawley voiced concerns that ByteSpace is still a threat to national security because the company's headquarters are still located in China, where the government openly infringes on private businesses and their customers.
"It's a Chinese-owned social media platform so popular among teens that Mark Zuckerberg is reportedly spooked," said Hawley. "A company compromised by the Chinese communist party knows where your children are, knows what they look like, what their voices sound like, what they're watching and what they share with each other."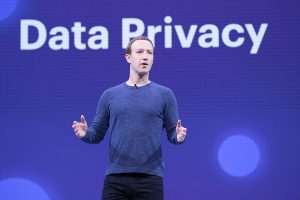 So, is TikTok an evil pawn of the Chinese government? It's hard to say. Despite his alarmist tone, Hawley did introduce an important point in the conversation surrounding TikTok. One of the largest voices leading the backlash against TikTok is Facebook, a company that is notorious for privacy issues.  As Steven Overly wrote for Politico: "…Silicon Valley may now find itself positioned as the transparent alternative to China." Facebook CEO Mark Zuckerberg frequently brings up TikTok when being pressed on Facebook's own privacy violations. As a result, lawmakers seem to be caught up in what could be a misinformed frenzy surrounding the new app. It's a common phenomenon on the Hill. In December 2018, Congress humiliated themselves while questioning Google CEO Sundar Pichai about data and privacy issues. Pichai used the opportunity to inform Rep. Steve King (R-IA) that Google does not make iPhones while avoiding more pressing matters concerning selling data and search engine bias. In Pichai's case, the distraction came from Congress's obvious ignorance. However, pointing the finger at Chinese companies is proving to be a better long-term strategy.
 Congress is often skeptical of new technology, and the fears surrounding China will only make it more difficult for there to be a meaningful investigation. High schoolers may never know if their data is being shared with a government that runs internment camps. In the meantime, they will keep making videos for the For You page, hoping for the day when they can finally attain TikTok fame.
Author
Slater Dixon, Perspectives Editor
Slater Dixon is a senior and this is his second year on the Statesman staff. When he is not exposing the seedy, corrupt underbelly of LHS through hard-hitting...