A remarkable return for Tame Impala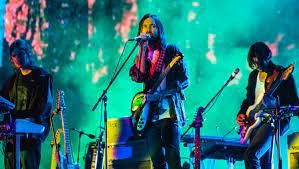 Since 2007, the Australian band, Tame Impala, has been creating psychedelic pop music for listeners all over the world.  
Tame Impala is a five-person band consisting of lead singer-songwriter, Kevin Parker, drummer, Jay Watson, bass guitarist, Cam Avery, guitarist and synthesizer, Dominic Simperand and drummer and backing vocals, Julien Barbagallo. These five men together create outstanding music with rhythm perfect for any mood. They have won numerous awards for their unique alternative music over the years. In 2013 and 2015 Tame Impala obtained "Album of the year" for "Lonerism" and "Currents" from the Australian Recording Industry Association (ARIA); not to mention countless other awards they have been nominated for and won. 
Although Tame Impala has received a multitude of honors for their talent, they disappeared since their most popular album "Currents" released in 2015.  However, in mid-December 2019, Tame Impala announced the news of a comeback album being released on Valentine's Day, 2020, and once it got here, it was nothing less of what was expected by fans. The anticipation was high, and the new album "The Slow Rush" was an instant sensation. Within the album, there are nine songs that each have their own story and topic. The originator of Tame Impala, Parker, gives a description of how he was influenced to write each song, such as top hit from the album "One More Year."
"I just realized we were standing right here exactly one year ago, doing the exact same thing. We're blissfully trapped. Our life is crazy but where is it going? We won't be young forever but we sure do live like it. Our book needs more chapters. Our time here is short, let's make it count. I have a plan," said Parker. 
As Parker reflects on his life, he creates music with his band and willfully shares it with the world. The songs in "The Slow Rush" are chapters from his life, each ending with a lesson for the listener. This inspiring new album gives a sense of direction for the future and reflects passionately on the past. Despite the fact that there is still a lot to unravel within this album, one thing is for sure, Tame Impala's return of the year was worth the wait.