Baker takes his shot with pool videos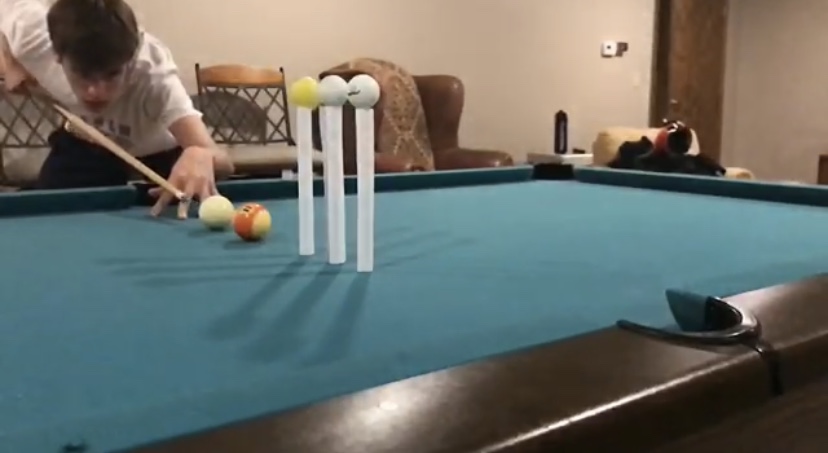 The game of pool is often connotated with old men, cigars and an overall dull and tedious activity. Rob Baker, a LHS junior known as @scrob45 on Instagram, is changing that narrative with his popular pool tricks. Since the birth of his account in 2017, Baker has filmed, edited and posted over 30 pool trick shot videos on his Instagram account.
While Baker has been practicing and playing pool since 1st grade with his grandfather, his passion for pool tricks only started recently. Baker has accumulated over 700 followers on his Instagram account and hopes to gain more. In 2019, Baker entered a brief retirement period, but returned with an eagerness to improve.
"I retired for a little to do some upgrades, like the LED lights. Also, one of my very good friends, Alex, from Clear Lake, Iowa passed away," said Baker. "He was a great guy who did a lot for his community. I just needed a break from the trick shots for a while. But I decided to come back for the fans, and more importantly, for Alex."
Baker is especially popular among his peers, who enjoy watching his videos and interacting with him on his Instagram account. They are also very inspired by his content, his persistence and his life in general.
"I like watching his videos because the content is so different from everything else in my Instagram feed, so it is really refreshing to see that," said LHS junior Anika Nelson. "His outlook on life is unique and surprises me every day."
Baker's content is something that is not seen every day; although Instagram has become a hub for people to share their passion and talent, Baker is one of precious few pool trick shooters on Instagram. Basketball is more common on the app and has become extremely popular. However, one Instagram user has become extremely popular for his pool trick shots. 19-time Guinness World Record holder Josh Horton has over 300,000 followers, and although pool tricks are not his most common type of content, he has posted several pool videos on Instagram that have received over 33,000 views. Horton has been featured on ESPN and the Ellen Show. 
While Baker may not have achieved such major success yet, he is confident that he will continue to produce trick shot videos for everyone to enjoy, and that his skills will continue to improve as his account grows.
"I have learned a lot already and there is still more to learn. The only process for me at this point is coming up with shots or watching film and then executing the shot," said Baker.
Author
Molly Wetsch, Editor-in-Chief
Molly Wetsch is a senior at LHS. She is a second-year staff member and serves as one of five Editor-in-Chiefs for the Statesman. When not hanging out in...