New year, new stores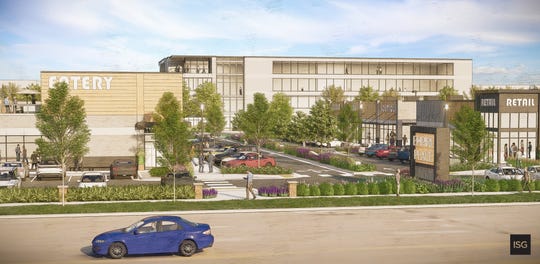 Over the past few years, Sioux Falls has been growing tremendously, both in population and in attractions, and 2020 is no exception.
In addition to the new stores already welcomed in 2019, such as Altar'd State and Dry Goods in the Sioux Empire Mall, 2020 is on track to top that, starting with the new home decor superstore, At Home, which opened in late January and is located in the old Shopko building on 41st Street. This year, Sioux Falls is adding to that as they greet everything from new restaurants and retail stores to hotels and bigger businesses.
Some of the most anticipated places include a Chipotle Mexican Grill as well as restaurant and entertainment business, Dave and Busters, which is expected to open at Lake Lorraine this summer. During the spring, Flyboy Donuts is set to open another location near 57th & Sycamore.
In addition to the numerous restaurants that plan to open this year, the hotel business aims to grow in 2020. Hotels like Hyatt Place and Aloft Hotel plan to open at Lake Lorraine. The Best Western Glo is expected to open at Dawley Farm Village, Staybridge Inn and Suites in Southwest Sioux Falls and The Canopy by Hilton Hotel in the big Sioux Steel redevelopment project.
Downtown Sioux Falls is also in the works. The reopening of the State Theatre plans to begin its operations this spring after the long-anticipated remodeling. According to Keloland news, Denny Sanford has donated $3.5 million and the city contributed $1.5 million in order to restore the theatre to its original fame and beauty. The theatre also proposes starting an elevated concession stand and is aiming to charge around $12 a ticket. As far as entertainment goes, they are going to run movies, classics, art films, foreign films and more.
Another big project Sioux Falls is taking on in 2020 is the Empire Place. The new strip mall will be located near the Empire Mall along West 41st Street where the old Ford building is. The Empire Place intends to start demolition as soon as possible in order to house seven separate buildings for eateries and retail stores. Three of the buildings are already in the process of negotiating leases and letters of intent with interested businesses.
Sioux Falls has broadened remarkably in the past few years and the growth is only going to increase due to these new attractions and improvements. The implementation of more stores and eateries will continue to make Sioux Falls the number one destination for surrounding rural areas keeping it a family-friendly, exciting place to be.