NAIA school visits LHS RISE program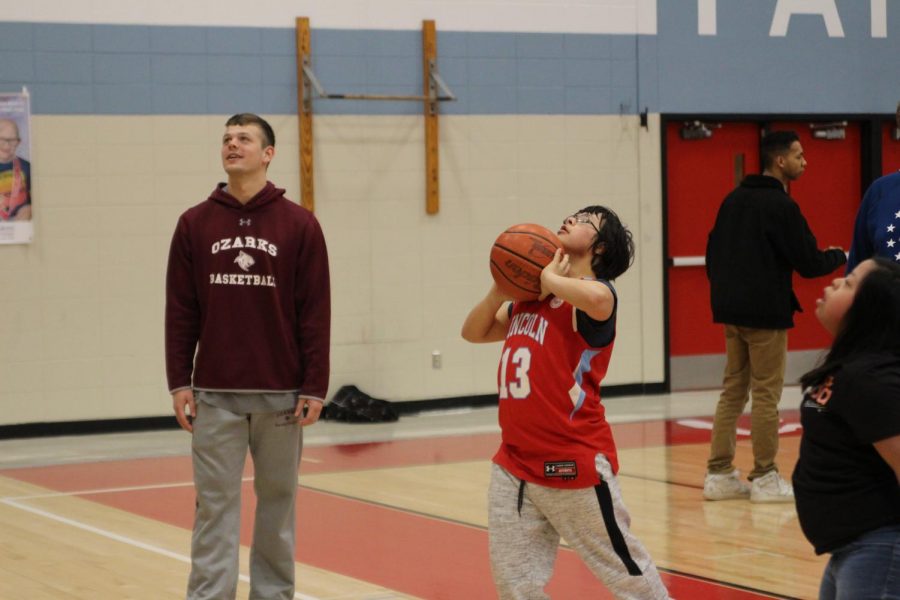 On Tuesday, Mar. 10, the National Association of Intercollegiate Athletics (NAIA) men's basketball team from College of the Ozarks came to LHS to play basketball and shoot around with students in the LHS RISE program. The Bobcats started the NAIA National Tournament on Wednesday of this week. The events of Tuesday were a part of the NAIA Champions of Character community outreach program.
"We do a Special Olympics clinic at our college every year, so this is right up our alley," said head coach Steve Shepherd.
Giving back to the community is a huge part of being an athlete, and that is why the NAIA started the Champions of Character program.
"This is what basketball is about," said College of the Ozarks senior Brandt Cochran. "We're given this platform as college basketball players to give back and show Christ-like character so this is what it's all about, this is why we play."
Giving back through the Champions of Character program allows players like Cochran and his teammates to connect with kids through basketball, the sport they have all learned to love.
"Basketball is my life, and it's been really important to me," said Cochran. "As much as it's done for me I like to see it be done for other people." 
The event took place during WIN time in the auxiliary gym and consisted of basketball shooting contests between students and college players as well as players rebounding for the students as they shot.
"Anytime we can come and spend quality time with kids and love on them and play with them and show them that we care about them, we're happy to do it," said Shepherd. "I think sometimes kids look up to college athletes, so it's neat for us to be able to come here and be role models."
Many students, like LHS junior Austin Farr, had a blast playing basketball with the college players, whether they had experience with the sport or they had just tried playing for the first time.
"This day makes me feel so much better when people play basketball with me; I love it. It's so fun," said Farr.
Author
Caleb Hiatt, Staff Writer
Caleb Hiatt is an LHS Sophomore and a first-year Statesman staff writer. Hiatt is involved in basketball, yearbook, Math National Honor Society and Spanish...
Olivia Brost, Staff Writer
Olivia Brost is a first-year staff writer and a Sophomore for the Statesman. Brost enjoys long weekends, blasting the Lumineers, binge-watching "Criminal...