America's doctor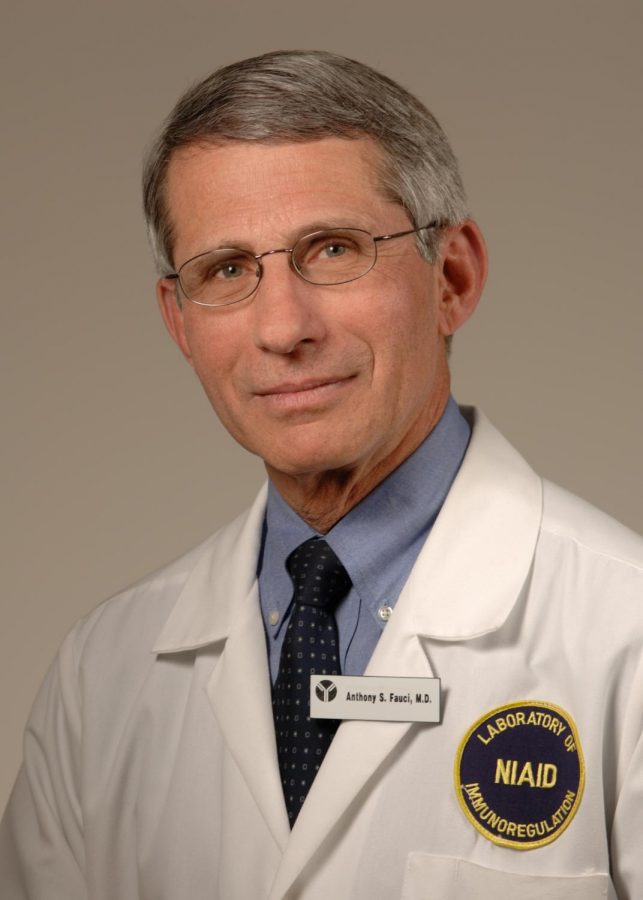 One of the most prominent leaders during the coronavirus pandemic has been Dr. Anthony Fauci. With such an extensive history in running the National Institutes of Health's National Institute of Allergy and Infectious Diseases as well as fighting many different medical crises, it is clear to see how he has become America's doctor. 
Fauci's life began in Brooklyn, New York when he was born to Eugenia and Stephen Fauci, first-generation Italian-Americans. He spent most of his childhood days playing basketball, baseball and football alongside helping his father maintain his pharmacy. While he attended high school in Manhattan, he was the captain of the basketball team, but later switched his focus to studying pre-medicine at College of the Holy Cross in Worcester, Massachusetts. After attending Cornell Medical College and graduating first in his class, Fauci completed his internship and residency program at New York Hospital-Cornell Medical Center.
In 1968, Fauci began his career as a member of the National Institutes of Health's National Institute of Allergy and Infectious Diseases while also being a senior investigator in the Laboratory of Clinical Investigation. During his career, he was able to develop a groundbreaking drug for certain previously fatal illnesses: polyarteritis nodosa, granulomatosis with polyangiitis and lymphomatoid granulomatosis. Alongside his newfound success, he became the chief of the Laboratory of Immunoregulation in 1980. Four years later, he became the director of the NIAID under President Ronald Reagan in 1984.
Before assisting in the formation of the President's Emergency Plan for AIDS Relief in 2003, Fauci had a lot to accomplish ahead of him. First, he had the task of persuading the government to take this virus seriously while also lobbying for an increase in research funding. Next, he had the challenge of convincing the activists that he was not to be blamed for the administration's previous inaction to fight this crisis. Fauci successfully received the increase in funding alongside alliances with the activists that allowed them to take part in the HIV clinical trials and experimental drugs. As his life grew more and more around this virus, he grew such an understanding of how this virus attacks the human body that he created effective medications that allowed HIV positive patients to live a longer and more fruitful life. 
Not only did he help fight the AIDS-HIV virus, but he also fought against the West Nile virus under President Bill Clinton, anthrax and SARS under President Bush and the swine flu and Ebola virus under President Obama. 
As one of the faces of American medicine, Fauci has earned most of the awards available to a person in his field of practice: The Presidential Medal of Freedom, the National Medal of Science and the Mary Woodard Lasker Award for Public Service. From universities around the world, he has also been awarded 45 honorary doctoral degrees. Moreover, he was inducted into the Government Hall of Fame in 2019.
Now, with the ongoing coronavirus, Fauci is once again doing his best to find a cure. In the lab, he participated in testing Gilead Sciences' antiviral drug remdesivir, in which the results showed "quite good news," said Fauci. Although this study met its endpoint in late April, it has proven that a drug can block this virus," he said.
Author
Avery Nelson, Staff Writer
Avery Nelson is a sophomore and a first-year staff writer on the Statesman. When she is not writing for the Statesman, she spends most of her time playing...