Banana bread: the unofficial food of quarantine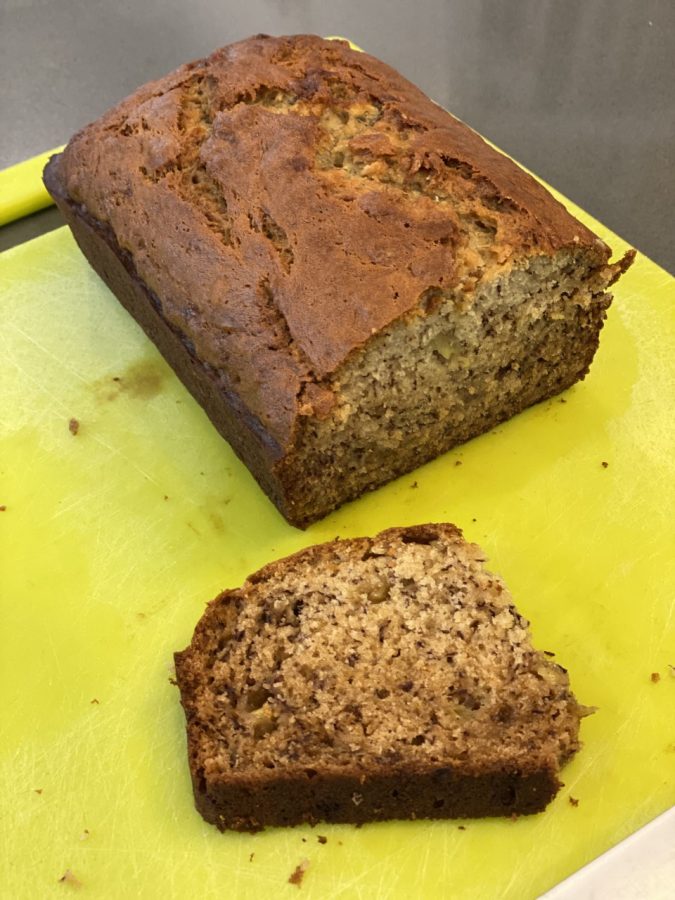 It is no secret that this spring everyone has had more than a little extra time on their hands, which has allowed people to find new hobbies as well as rediscover old ones. Baking is one of these hobbies, and is sure to always leave you with a tasty treat as a reward for all of your hard work. However, the more delicious delicacies often require hours and hours of labor-intensive work, not to mention a plethora of ingredients. Banana bread is the exception.
This quarantine season the popularity of banana bread has reached an all time high. According to CNN, banana bread was the most searched recipe across all U.S. states throughout April. In fact, web searches rose by 54%. The subject of banana bread also made headlines when celebrity Chrissy Tiegen traded a loaf of her infamous banana bread for a bag of romaine lettuce. 
While it is unusual that so many Americans are interested in baking the same type of bread, it is not particularly difficult to find the appeal of banana bread. As far as breads go, banana bread may be the simplest one to bake since it does not require yeast, which can cut the overall preparation time more than in half. It is also relatively cheap, as bananas themselves are inexpensive and easy to come by. Plus, the more brown the bananas are, the more flavor your bread will have, so baking banana bread is a good alternative to simply throwing the overripe bananas away. And although the recipe is fundamentally the same across the board, the thick batter allows you to spice up your bread (quite literally) by adding in whatever fixins your heart desires. 
I myself fell victim to the banana bread craze just a few weeks into quarantine after watching a TikTok of an especially delicious-looking loaf being pulled out of the oven. So, I turned to my mother's favorite cooking website, Smitten Kitchen, for a recipe. Just one hour later, my kitchen was filled with the wondrous aroma of banana bread, fresh out of the oven. The loaf disappeared less than 24 hours later, of course, seeing as I had done such a marvelous job in my baking endeavor. Since this first experience, I have made banana bread three more times. Once, I even decided to mix it up by adding chocolate chips! Since there is still plenty of at-home time in my future for this summer, I am sure I will be baking banana bread many more times to satisfy my sweet tooth and help me escape the boredom. 
Baking banana bread is not only a good way to pass the time while we are all stuck at home, but it also is a way to find joy during such uncertain times. The notes of nutmeg and cinnamon are sure to remind everyone of their childhood and of their loved ones, which is a comforting feeling we all could use. So, next time you feel your eyes glaze over from staring at your phone or TV screen for too long, get off the couch and head to the kitchen to join the club of banana bread bakers. 
Author
Avery Blackman, Entertainment Editor
Avery Blackman, a senior at LHS, is an Entertainment Editor and a second-year staff writer for the Statesman. She can usually be found on the tennis court...