Skin Care: the products that saved my skin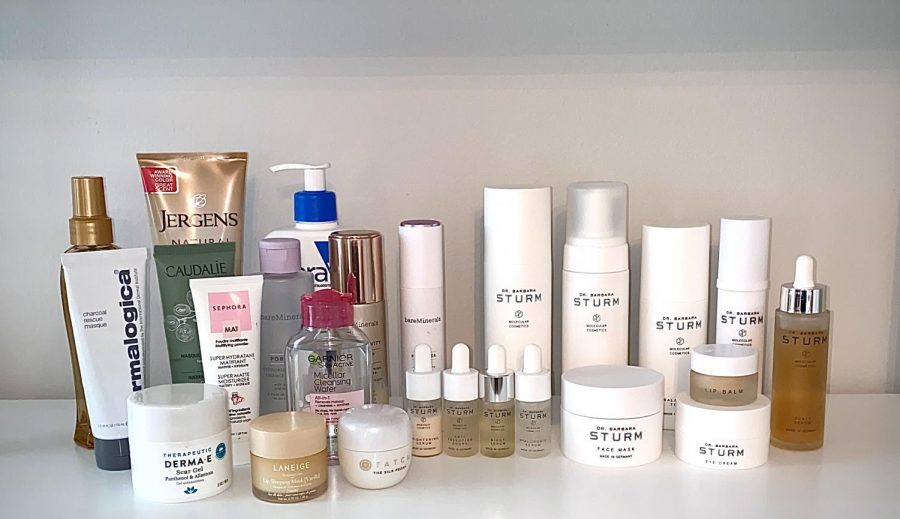 Over the past few years teenagers and young adults have become more invested in the idea of skin care. We are told that we should always wash our face and wear sunscreen, but with a large variety of products, what ones should we be using? Let me tell you, I have done the research, attended the online classes and tested out a boatload of products. I won't tell you that I have become an expert, but some might not contest the idea.
Before considering any products, one should take into account their skin type. According to Dr. Barbara Sturm, a German aesthetics doctor who is widely renowned for the nonsurgical anti-aging skin treatments and anti-inflammatory philosophy, one can determine this by washing their face and waiting 30 min before applying any other products. If your skin seems dried out and tight, you have dry skin. If your skin seems oily and shiny, you have oily skin. Since some people lie in between the two types, their skin would be a combination of both dry and oily spots. This is called combination skin when you notice a shine on your forehead and chin. Since I tend to have oily T-zones (across my forehead and down my nose), I have combination skin, so the products I am going to be reviewing and recommending will align more with this type of skin, but the products can work on all three skin types.
Step One: Face Wash
The first step to any routine should be to remove any makeup that might still be on the face. Most dermatologists, like celebrity dermatologist and skin expert Christie Kidd, PA-C, recommend straying away from the use of makeup wipes. 
"Even though [makeup] wipes appear to be a quick way to remove makeup, they cause more damage than you think," said Kidd during an Instagram Live. "Using them regularly can lead to clogged pores and even breakouts."
Instead of using makeup wipes, consider using a gentle foam cleanser. Applying one to two pumps to damp skin can provide for a clean rinse that should remove all makeup. 
Drug Store Option: Cetaphil Foaming Face Wash
For the Splurge: Dr. Barbara Sturm Cleanser
Usage: Wet face with lukewarm water and then apply one to two pumps all over face and neck. Rinse and pat face dry with a soft towel.
Both of these cleansers provide a successful wash. In using these products, they didn't strip my skin. They left my skin feeling refreshed after each wash. Both cleansers were effective, but I have decided to continue using Dr. Sturms cleanser. This product was more effective in balancing out my skin tone.
Step Two: Exfoliator 
The next step in one's skin care routine should be to exfoliate. Exfoliating can provide a deeper level of cleansing and can help to clean out pores and remove dead skin cells. 
"Exfoliation addresses both irregular texture from erratic cell turnover, eliminates debris and dead skin cells, and creates a smoother skin surface for better penetration of actives, more effective hydration and an easier makeup application," said Beverly Hills Doctor, Ava Shamban, MD.
Drug Store Option: Olay Refreshing Citrus Scrub
Usage: Wet hands and face. Massage gently onto the face and neck. Rinse thoroughly. Can be used daily.
For the Splurge: Dr. Barbara Sturm Enzyme Cleanser
Usage: Use two to three times per week. Place a coin-sized amount of the powder in the palm of your hands, add water and rub it in between your hands until a gentle foam appears. Smooth generously over your face to create a soft foam and rinse off.
I was pleased with both of these products. I am going to continue using both of them and alternating the usage of each product. 
Step Three: Toner
After cleansing, using a toner helps to balance the pH of your skin which helps to even out skin tones. It also removes traces of oil and makeup, helps control acne and remove excess dirt.
Drug Store Option: Thayers Witch Hazel Alcohol-Free Toner
For the Splurge: Dr. Barbara Sturm Balancing Toner
Usage: After cleansing, apply a quarter-size amount of toner onto a cotton pad. Gently rub all over face and neck. Can be used up to two times per day.
I decided to continue using Dr. Barbara Sturm's Balancing Toner. It made my face feel hydrated and cleansed. I didn't feel the same about the Thayers Witch Hazel. My skin felt stripped, and I started to break out. I got the Thayers in the lavender scent, so if you are going to try this toner, I would recommend getting the unscented version.
Step Four: Serums
Face serums are not a new discovery within the skin care world, but more recently people have started adding them to their at-home skin care regime. Serums are lightweight moisturizers that penetrate deeper to deliver active ingredients into your skin. They have been known to smooth skin texture, reduce the size of pores, increase moisture in the skin and make one's skin firmer.
There are various serums that do many different things but when starting out one should consider a basic serum that can address multiple skin care concerns.
My choice: BareMinerals SKINLONGEVITY Vital Power Infusion Serum
This serum "helps reduce visible signs of aging and damage, improves skin's resiliency and suppleness, and protects the skin against age-accelerating factors. An exquisitely nourishing formula replenishes your skin's vitality and natural glow," said BareMinerals. 
I have been using this serum for nine months and the changes in my skin's consistency and balance are incredible.
Usage: Apply two pumps to face and neck after cleansing and toning. Gently rub formula onto your face and then pat in. (Serums should not take the place of a moisturizer. They are an added form of hydration that reaches lower levels of the skin barrier.)
Step Five: Moisturizer
The final step to any skin care routine should be moisturizer. Moisturizers are known to help prevent breakouts and balance your skin's complexion.
"Moisturizers prevent and treat dry skin," said an article written by the Mayo Clinic Staff. "They can also protect sensitive skin, improve skin texture and mask imperfections."
Morning Moisturizer: Olay Total Effects Moisturizer with SPF 30
Usage: Apply a generous amount on the face and neck following serums.
Evening Moisturizer: BareMinerals Poreless Oil-Free Moisturizer
Usage: Apply to face and neck following serums.
Although this seems extensive, taking the time to pamper oneself and care for one's skin will have many benefits.
"Our skin is an organ, not just a beauty device," said Sturm. "We want to keep our skin functioning as well as possible."
Author
Chloe Houwman, Perspectives Editor
Chloe Houwman is a junior and the perspectives editor for the Statesman. When Houwman is not writing 'fire' stories, you can find her waitressing at...