TikTok trend causes international shortage of painter's tape
The closing of schools due to COVID-19 has caused many teenagers to engage in various aesthetic projects, but those seemingly innocent activities are putting a monumental strain on a crucial national resource: ScotchBlue Multi-Surface Painter's Tape. 
"This is just one more thing to worry about in terms of the long-term economic effects of this pandemic," said Dr. Anthony Bell, a senior fellow at the Brookings Institute who follows patterns in national consumption of household goods. "We fully understand the need for splashes of color separated by the pleasing, crisp lines that only come with the patented tech behind this amazing tape. However, the increased demand is simply unsustainable. Consumers just can't find this tape anywhere."
Common projects created using the tape involve geometric sidewalk art, closet painting and DIY table decoration.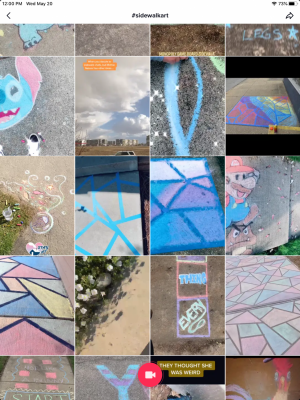 "I saw this trend on TikTok where people would place tape on their driveways in intersecting patterns and color in the spaces for a fun, summery feel," said LHS sophomore Genny Humphree, whose own TikTok got over thirteen likes. "Using the ScotchBlue tape was incredible. I felt like a devoted participant in suburban euphoria."  
That sweet taste of youthful bliss comes at a cost, though. Experts like Dr. Bell are saying that the global trend of teens leveraging the clean lines from 3M's popular UV resistant product has caused bare shelves across the country. The shortage is the worst for the professionals who need it to do their jobs. 
"I'm just doing this as a side gig, which means I don't have access to the super high-quality commercial painter's tapes, and I don't have the pro skills required to paint without it," said one Sioux Falls painter, who spoke anonymously. "For a long time, I've been able to rely on ScotchBlue tape, which allows anyone to get clean, professional-looking results despite their skill level. It's really on par with the commercial stuff, and it's crazy that 3M provides such an incredible product for consumers, often at a reasonable price. However, now it looks like my time using this fantastic item is over."
 Professionals and hobbyists have become increasingly vocal about the bare shelves and danger to their livelihoods that have resulted from diminished availability of the tape, which boasts a 14-day clean removal with no sticky residue. Tensions boiled over last Friday when a riot broke out at a Home Depot in Albuquerque, NM. High-schoolers, out of school and ready to make aesthetic VSCO posts, clashed with homeowners who were prepping for a weekend of renovations. One teenager allegedly crashed a white Jeep Cherokee into the storefront.
"It was horrifying. Their shirts were so long, their shorts were so short," said Harold Waldorph, a painter from the New Mexico area. "All I wanted was the minimal cleanup and ease that comes with a high-quality painter's tape from 3M."
Author
Slater Dixon, Perspectives Editor
Slater Dixon is a senior and this is his second year on the Statesman staff. When he is not exposing the seedy, corrupt underbelly of LHS through hard-hitting...