New school year, new guidelines
Coming back to school was an unknown for many, but now students and staff are returning to school with many procedures in place to ensure their safety.
Over the summer, the LHS staff worked hard to prepare for the return of students and make a safe environment. Not knowing what to expect, they still hoped that they could see the school in action again. On Aug. 27 and 28, students and teachers all returned to LHS to begin in-person learning. As students walked down the hallways for the first time since March, they noticed that not everything was the way they remembered.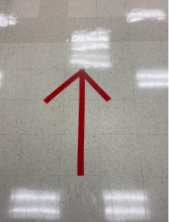 Students were excited to see their friends, however, the social distancing restrictions ruled out any close contact. Students were trying to get to class on time, but remember they had to take a detour because the hallway only goes one way. Students were smiling at their friends as they passed them in the hallway but remembered that their friend cannot tell they are smiling because the mask covers it up. Students wanted to get a drink of water but remembered that the water fountains are not available for use. No one knows when the end of Covid-19 will be, but the LHS administration is just trying to make it through the day as safe as possible and trusting that these changes will make an impact.
"Wear a mask, use hand sanitizer and social distance are not silver bullets, but it is what we know works," said Principal Dr. Laura Raeder.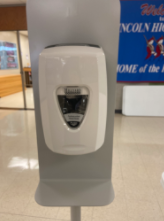 Most students that attend LHS are wearing their masks in the classrooms and the hallways. Sanitizing stations have been placed throughout the hallways and in each classroom.  Social distancing can be hard in the school, but the one-way hallways help the students´ to social distance.
"I am impressed with the students and the teachers.  This is a lot of change.  They are walking one way in the hallway and separating themselves at lunch," said Raeder.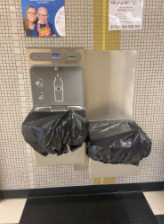 The lunchroom has a different look than it has in the past. The changes consist of: tables are further apart than normal, every other seat is x-ed out, tables are in the foyer to make more room for students to sit at lunch, water fountains are not available for use and there is only one option for lunch. Students do get to enjoy their lunch without their masks on, which gives them a little bit of a breather after wearing their masks all morning and preparing to wear them all afternoon.
Students realize that all these changes may be the new normal for a while now. No one knows when the end will be, all they know is that these procedures will help students and staff stay in school a little longer.
Photos by Claire Brown