Borat 2 review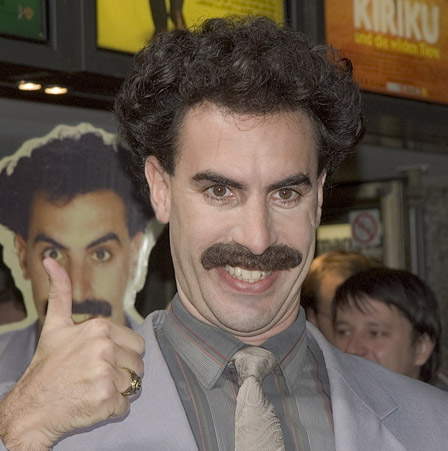 He is back: Sacha Baron Cohen, professionally known as Borat, has delivered another masterpiece. The perfect sequel to the first movie." Borat Subsequent MovieFilm" is full of hilarious pranks and dark comedy. It was released to Amazon Prime Video on Oct. 23, 2020.
Fourteen years after Borat was sentenced to the Gulag for life by his home country of Kazakhstan, he is given another opportunity to prove himself. His task this time, deliver Kazakhstan´s Minister of Culture to United States Vice President Mike Pence. A very odd task given to him, but what makes it even weirder is that Kazakhstan's Minister happens to be a monkey. The movie continues and Borat arrives in the United States. Once he arrives he opens up a crate, where he is expecting to see his Minister of Culture sitting. However, the ultimate plot twist happens: his daughter jumps out and is seen covered with blood all over her face. Once he looks deeper into the crate, he sees the remains of his country's Minister all over. Yes, his daughter ate the monkey.
After this scene, Borat becomes very nervous. If he does not deliver on the plan, he will be executed. The movie goes on and Borat is given a new plan, gift his daughter Tutar to Vice President, Mike Pence. 
Throughout the movie, Borat tries to give his daughter away multiple times. He even went to a convention dressed up as Donald Trump where Mike Pence was speaking and tried to gift his daughter to him. He ended up getting kicked out of the convention and once again his plan fails. After multiple failed attempts to give away his daughter, Borat finally realizes how much his daughter means to him, and eventually, they go back to Kazakhstan where Borat finds out a dark dark secret about his government. You will have to watch the movie to find out what happens.
Overall, I would give this movie a solid 9/10. The creativity in Cohen's hilarious pranks, which almost all happen to be real, makes it even better. In addition, this film is almost guaranteed to make you laugh out loud. However, I wish the pranks could have been longer, it seemed like they were very short. Overall, if you are a fan of comedies I would highly recommend watching this movie.