A cozy COVID Christmas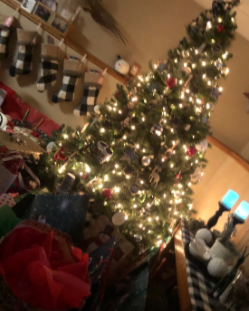 With COVID-19 spiking in positive cases as the winter season continues to get colder, many family plans involving Thanksgiving and Christmas have had to be planned differently than the previous years. It has been especially important to social distance around grandparents, and those family members who are at a higher risk of getting the virus. However, Thanksgiving and Christmas are a time of joy when family is supposed to come together, so these gatherings will be much harder this year. 
"I spent Thanksgiving with only one side of the family; we weren't able to spend it with my dad's side because we didn't want to put my grandpa at risk," said freshman Ellen Merkely.
Though some families may be getting together with immediate family for the holidays, many will not get together with extended family, such as cousins or grandparents. Although the holiday season is all about spending time with family and spreading love and joy between everyone, it is very important to take much precaution this season. 
"I spent Thanksgiving with my dad's side, but we couldn't spend it with all of his side. And then I went to my mom's side and not alot of family could come," said freshman Trina Riddle.
COVID-19 is a very controversial topic; many believe that the virus should be taken into serious consideration especially during the holidays, while others believe that it is not necessary to wear masks everywhere they go. During this holiday season, COVID-19 and the idea of wearing a mask could cause conflict between families. 
"We almost didn't have Christmas this year with extended family because it was a big fight between everyone because half of my family believes in masks, and half of them don't," said Merkely.
When plans change, people have to come up with new ways to do things, such as new traditions for the holidays. Oftentimes, change is good, and due to COVID-19 this year, many new changes will be made all around the world, especially during this holiday season. Changes may involve different ways of travel than usual, different ways of exchanging gifts or even virtually seeing family over Christmas instead of meeting with them in person.
"For Christmas, we have to have it on the 26th because my family from Florida has to drive up because they don't want to take a plane," said Merkely.
"For my family this year we are only getting gifts for my grandparents, and not exchanging gifts with the rest of the family," said Riddle.
Although the holidays may be different this year than in the past, and not everyone will be able to get with family and friends like they may have planned, the holidays will still be a time to spread joy and happiness while celebrating the end of a crazy year.
Author
Hannah Cisar, Staff Writer
Hannah Cisar is a junior and first-year Statesman staff-writer at LHS. Outside of school, Cisar enjoys playing soccer with her homies, Westy and Nelly,...