"The Source" of productivity and remarkable drinks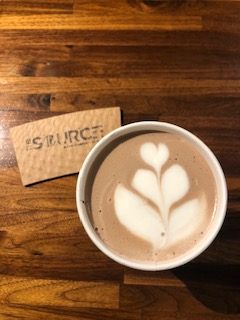 The Source is a specialty coffee roaster and taproom in the heart of downtown Sioux Falls. Upon entering the building, customers are greeted by the warm, comforting scent of brewing coffee, and the friendly smiles of the staff and community. Ordering is nothing but a dream; the staff is more than excited to recommend items to customers if they are unsure.
Alongside the more than welcoming atmosphere, the drinks are just as enticing. The Source offers an extensive list of drinks, allowing for customization upon request. As the seasons' change, the staff is constantly coming up with creative new drinks to add to their menu. Prices are nothing to worry about when going to The Source, as they are within the price ranges of the other local coffee shops. What makes The Source different is that their beans are roasted locally, in the shop itself, giving the coffee a more clean and refreshing taste.
The Source is surrounded by many other local businesses, which range from boutiques to restaurants to art galleries. The Source is a great spot to stop after a beautiful day of walking around and enjoying the downtown scenery and shops. Customers can even order food from the restaurants located in the shopping center, including Swamp Daddy's and Papa Woody's, and eat anywhere they wish. If you happen to be walking around with your dog, The Source is more than happy to welcome you and your dog into the building, as it is a dog-friendly environment. 
If you are looking for a new study spot, this is a great choice. During the evening hours, The Source is not heavily trafficked, making it a very peaceful place. The soft lighting, welcoming staff and subtle music makes The Source a wonderful spot for homework, meetings or even to just spend time with friends. The Source does not only cater to coffee drinkers, as they also offer an extensive amount of craft beer for those of age, making it a great place to relax and enjoy leisure time.
All in all, The Source is a great space that caters to members of the community of all ages, with many similarly appealing nearby businesses to check out. The atmosphere is very inviting and the drinks are just as remarkable. I highly recommend checking out The Source if you have not already.