2020 Fashion Trends
2020 has been one of the most hectic years many have ever experienced; so much has happened in the world since March. That being said, one can be forgiven for thinking that 2020 autumn and winter fashion trends have been somewhat debatable. Considering the challenges 2020 has presented, the fashion industry has still managed to pull off some amazingly creative looks that have changed the way people perceive fashion, and even the way some dress in their day-to-day lives. 
The pandemic has given people a fresh perspective on the fashion industry's relentless pace and desire for newness. It has also reminded people of the most basic idea: at its best, fashion can dress up your day. The countless amount of "lock-down looks" posted on social media in the past months have demonstrated that wearing fashionable clothes can lift spirits immeasurably. With all the extra time during COVID-19, many have had plenty of time to get creative and switch up their styles.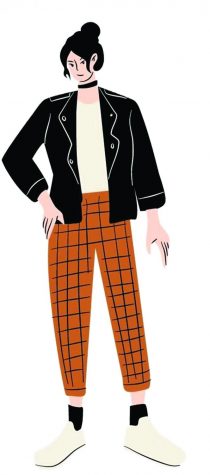 "I think my style has slightly changed throughout COVID-19 as I have had more time to create outfits that I think truly represent my style and personality," said LHS junior Avery Nelson. "I have also been trying to support more local and ethically owned businesses to help as much as I can during these unprecedented times."
While many clothing companies were forced to stall production, the immense amount of creativity shown while the majority of the world was in quarantine was none other than exceptional. Even at the height of the COVID-19 pandemic, the fashion industry produced a gallery of beautiful looks on the catwalks of New York, London, Milan and Paris during 2020 fashion week. With that being said, there have most definitely been changes in the way people are perceiving and purchasing their clothing.
"I think that COVID-19 has greatly changed the fashion industry by making online shopping much more prominent than before," said Nelson. "It has also caused people to be more cautious with the money that they are spending and so people may be supporting more of the fast fashion businesses."
The 2020 autumn and winter fashion season can be summarized by the saying "all dressed up and nowhere to go" since loungewear was all over the runway this year. So, even if one is locked in their living room, they can still expect some fun with this season's extraordinary volumes, ranging from balloon sleeves (shown in looks by Chanel and Fendi) to exploding skirts (most fashionably shown by Gucci, Molly Goddard, Off-White and Carolina Herrera). Gold, too, was a remarkable theme on the runways, from Tom Ford's cut-away number shown in Los Angeles to its full potential on Bella Hadid. 
A somewhat studious theme has emerged as well, equally suitable for these sobering times. A trend of nerdy knitwear erupted, with cardigans and argyle sweaters paired with everything from casual denim to dark silks. As did skirt-suits, which were surely the most empowering purchase one could make if planning a back-to-work look when the office reopens. Then there are the classic "just because" pieces that never fail to be a success. Seeking to make one key purchase this season? Make it a hot red dress (shown best on the runway by Valentino).
With all this in mind, the fashion industry — despite their minor setbacks and other worldwide issues to put first — most definitely did not disappoint. If anything, the fashion industry has stepped up and produced some of the most spectacular looks we have seen yet.