Clemson vs. Ohio State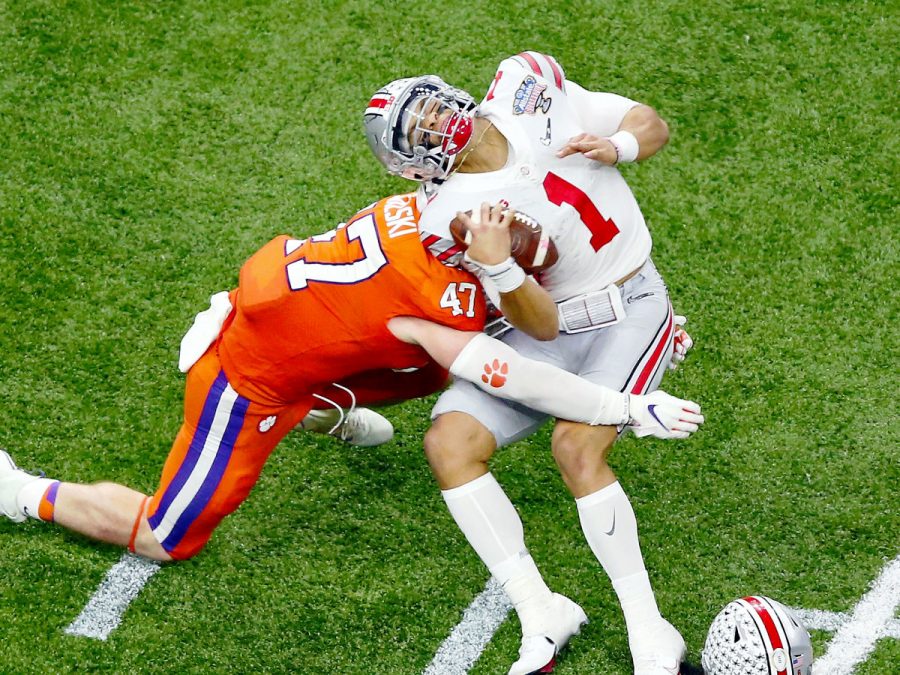 Ohio State Quarterback Justin Fields got banged up and still managed to take down Clemson. Going into this game Clemson was favored to win by seven points. Ohio State won this game by a score of 49-28.
Clemson started off the game by rattling an eight play 82 yard drive against Ohio State's defense, ending with a 2 yard Trevor Lawrence touchdown run. Shortly after this Clemson scored Ohio State answers with a touchdown of their own by running back Trey Sermon. Ohio State scored the next three touchdowns and ended up going into halftime with a 35-14 lead. After the intermission Ohio State came out and threw a pick on their first drive allowing for Clemson to drive down the field and score a touchdown, making it a 14 point differential. Ohio State was able to score two more times before the end of the game while Clemson was only able to score once. The final score was 49-28 Ohio State. 
Going into the game, nobody was giving Ohio State a chance to win. Clemson was the clear favorite in this game and many thought it was going to be a blowout. With that being said, Fields played through a lot of pain, after getting cracked in the back by a helmet with around six minutes left in the second quarter. He had a 78.6% completion percentage throwing for 22-28. He threw for over 380 yards along with six touchdowns. During an interview after the game reports claimed Fields winced as he was leaving.
This was a very interesting and surprising game. I personally would have never guessed that Ohio State was going to beat Clemson. Fields played insanely well, given the fact that he was so banged up and still able to perform the way he did. The fact that he winced getting up after his interview and still put up those numbers just shows how incredibly tough this guy is. Fields said, "I'll be good by Monday night." Ohio State will look to continue the way they are playing on Monday, Jan. 11, facing an even bigger challenge against Najee Harris and the Alabama Crimson Tide.
Author
Gavin Solomon, Staff Writer
Gavin Solomon is a junior at Lincoln and a first year Statesman writer. Solomon is a part of the Lincoln baseball team. When he's not invested in the...