Lonzo vs. Lamelo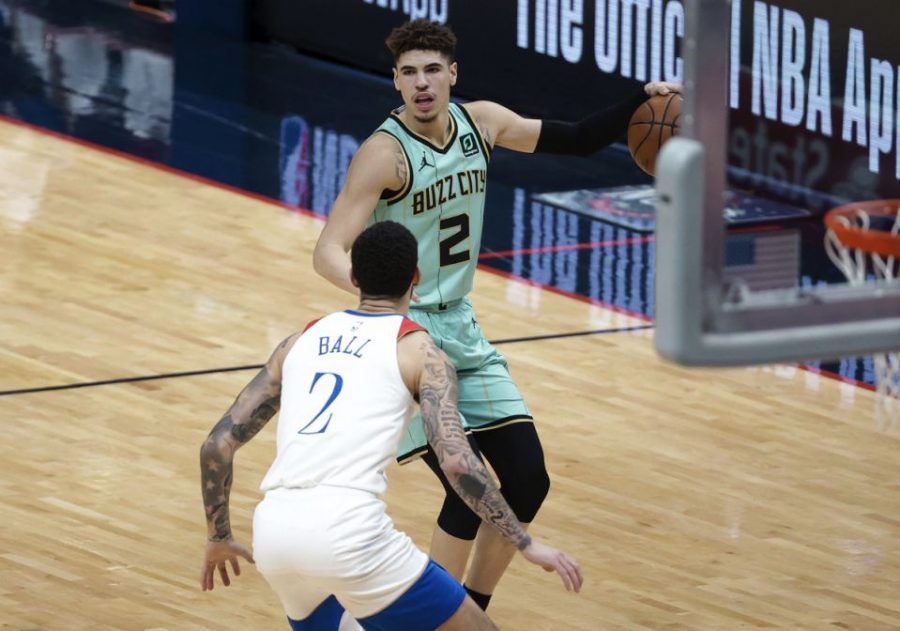 On Friday, Jan. 8 the Charlotte Hornets and the New Orleans Pelicans faced off, and for the first time in Lamelo and Lonzo Ball's career the brothers played against each other. Both Lamelo Ball and Lonzo Ball have been highly publicized since the beginning of their high school career.
Both Lamelo Ball and Lonzo Ball were top three draft choices in the past four years. Before this game the Ball brothers met at half court to take a picture together. There was a lot of hype going into this game about who was the better Ball brother; in this game it looked as if Lamelo was the better brother. The rookie had 12 points, 10 rebounds and nine assists ending the night one assist away from a triple double, whereas the older brother Lonzo had five points, two rebounds and three assists. These two actually guarded each other for parts of the game which really made it interesting to watch. Lamelo was able to hit a three while Lonzo was guarding him and he even blocked his older brother on one of his attempted layups. 
The Pelicans led by double digits almost the whole first half. They were up 59-27 coming out of the half. When Charlotte started to mount their comeback, Lamelo hit a step back three late in the third quarter while being covered by his brother Lonzo to make it 82-87 going into the fourth quarter. The Hornets were able to win this game in the fourth quarter with a score of 118-110. 
This was a very interesting and fun game to watch. These brothers have always put on a show and they continued to do that in this game. Lonzo will look to bounce back from his poor performance, while Lamelo will seek to heighten his production. It will be interesting to see how these two match up later in the season as Lamelo is only a rookie and out-performed his brother in their first game against each other. These two do not have another regular season game scheduled this year, but when the playoffs come around these two might be seeing each other again.
Author
Gavin Solomon, Staff Writer
Gavin Solomon is a junior at Lincoln and a first year Statesman writer. Solomon is a part of the Lincoln baseball team. When he's not invested in the...