Eating like Guy Fieri
After watching Guy Fieri check out Look's marketplace on "Diners, Drive-in and Dives," I thought I would check it out myself.
This past summer, Guy Fieri made a visit to Sioux Falls, SD and went to Look's Marketplace. Look's Marketplace has been around since 1883 and moved locations this past year. Inside Look's Marketplace, there is a butcher, bakery, deli, grocery and a restaurant.  On Jan. 29, 2021, Look's Marketplace was finally aired on Food Network with two other restaurants from Alaska and North Dakota. The show featured the porcules sandwich and the motor city Detroit-style pizza.
The porcules sandwich is on a ciabatta bun filled with plenty of meat such as pulled pork, smoked pork brisket and Look's pit sausage. To give the sandwich more flavor, they add BBQ sauce, pickled onion, arugula and chili lime mayo.
After trying the porcules sandwich, I could definitely say it is hands down one of the best sandwiches I have ever tried. The bread is made in Look's kitchen which makes it more fresh and tastes like nothing you have ever had before. Having a variety of meats makes the sandwich more flavorful and adds the perfect combination of textures. When they add all the extra toppings it has the perfect crunch and the flavor is unexplainably good. I recommend everyone in the Sioux Falls area go to Look's and try this sandwich to give your taste buds a treat.
The motor city Detroit-style pizza is made with fresh dough from the Look's kitchen. Usually, pizzas start with the sauce on the bottom, but for this pizza, they start with the cheese. Then, they add the other toppings like the mushrooms, pepperoni, house Italian sausage and soppressata. Then after baking, they add the sauce and then top with basil and ricotta cream.
The motor city Detroit-style pizza is definitely a pizza that the majority of people would enjoy. The thick crust is topped with all the toppings that add the perfect texture. The cheeses they add make the pizza so creamy and delicious. Every bite has the perfect taste, making the customers want to eat the whole pizza. This pizza is one of the best pizzas in Sioux Falls.
After trying the foods Guy Fieri tried at Look's Marketplace, I could say that he definitely has one of the best jobs. Look's Marketplace is a growing restaurant, and the atmosphere and the food are unbeatable.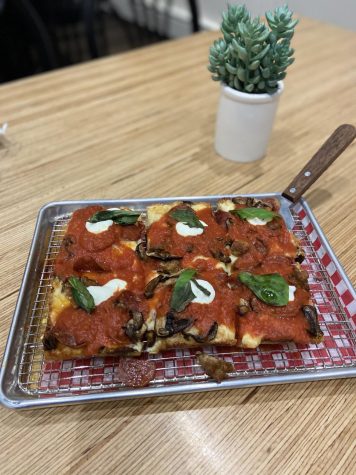 Author
Claire Brown, Staff Writer
Claire Brown is a sophomore at LHS and a first-year Statesman staff writer.  She spends the majority of her time playing volleyball.  When Brown is not...