Super Bowl Streaker supposedly bets on himself for 374K payout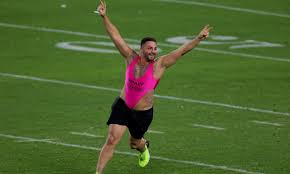 Late in the fourth quarter of Super Bowl LV, Yuri Andrade streaked across the field in a pink leotard in front of approximately 100 million people. Andrade, also known as the "Super Bowl Streaker," is 31 and resides in Boca Raton, Florida. This is not the first time there has been a streaker at a major sporting event. Two notable events that included a streaker at some point are the 2014 NBA Finals and 2017 World Series.
During the game, late in the fourth quarter, all the people watching around the world saw a grown man running down the middle of the field in a pink leotard. Shortly after Andrade was seen running down the field, ABC cut to a short commercial break. Viewers were told that Andrade was tackled and handcuffed after he slid into the opposite endzone while juking two security guards. The next day it was announced that Andrade was arrested for trespassing and his bail was posted at $500. 
A day later after Andrade was bailed out of jail, a social media post with the rumors that Andrade won a large sum of money off of a proposition bet started circulating. A prop bet is an event that takes place during the game, but does not actually affect the outcome of the game. An example of a prop bet would be whether the National Anthem is going to be played shorter or longer than three minutes. Prop bets are a very good way to make money without knowing much about betting. Most prop bets are a 50/50 chance that you win. The bet that Andrade put was +750 odds. By placing $50,000 down on the bet, Andrade reportedly won $375,000 — minus the $500 he had to pay for his bail. 
As of right now, there have been no reports that Andrade's claim is fake. Many people have been quick to question if it is even legal to interfere with the bet like he did. Also, people have questioned if he was even able to put down $50,000 on a prop bet since most prop bets cap off at $1,000 max. If it is true that Andrades made $375,000 off his own prop bet, it would make his winnings one of the largest of all time off of a prop bet.
Author
Carson Woods, Staff Writer
Carson Gregory Woods, more so known as the Woods family disappointment , is a second-year staff writer for the Statesman as a senior at LHS. Outside of...