Soaring into summer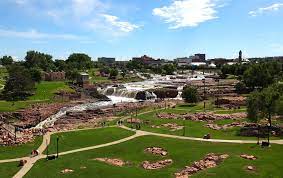 The summer of 2020 was an odd summer compared to previous summers, because of COVID-19.  Public pools were closed for the summer and most summer activities and sports were cancelled. Many people found themselves stuck at home or out on the bike trails until the weather got too cold and fall came along. However, this year's summer is looking to be an upgrade from last year with public pools, outdoor dining at restaurants, and bike trails and parks already guaranteed to open. 
Director of Parks and Recreation, Don Kearney, says that all public pools around Sioux Falls are planning to open on May 28, 2021. The pools opening this summer is something that many people are looking forward to when they think of summer. Not only does the pools reopening make many people happy, but it also benefits nannies, moms or anyone looking after little kids for the summer. The public pools in Sioux Falls are the go-to place for people with children who want to get a tan and enjoy the warm summer days.
After being stuck inside all winter long because of the freezing cold temperatures and not being able to go indoors in public places due to COVID-19, many people are looking forward to being able to go places and still be outside. Restaurants such as the Phillips Avenue Diner, MacKenzie River, Camille's Sidewalk Cafe and many other restaurants downtown and around Sioux Falls are going to continue to offer outdoor dining. Not only does this allow people to be able to spread out from other families who are out to eat, it also allows them to hang out in the warm summer weather everyone has been longing for. 
Although the bike trails never closed last year because of the pandemic, there were still large amounts of snow and freezing temperatures, many have not been able to go cycling around town in months. Last year the bike trails were filled more than ever with young kids, teens and adults who were sick of being stuck inside and quarantining. It is easy to say that the bike trails will yet again be filled with bikers, runners and families enjoying the outdoors as summer begins to near. 
Many people are beginning to get the COVID-19 vaccination, already making this summer safer than last year. Last summer, the COVID-19 pandemic had just started and everyone was advised to maintain six feet of distance between themselves and to stay at home as much as possible. However, according to CNBC, by June of this year there will be enough COVID-19 vaccines for everyone in the U.S. This will allow people to go out in public and participate in activities that were canceled last summer. 
COVID-19 took a toll on everyone's summer last year, but this year there are hopes that most summer activities will be close to back to normal. With more people being vaccinated every day, the pools opening again this summer, restaurants opening up more outdoor dining and the bike trails awaiting to fill with people, summer 2021 looks to be filled with everything but disappointment. 
Author
Hannah Cisar, Staff Writer
Hannah Cisar is a junior and first-year Statesman staff-writer at LHS. Outside of school, Cisar enjoys playing soccer with her homies, Westy and Nelly,...