Double the trouble: the brothers of the LHS boys tennis team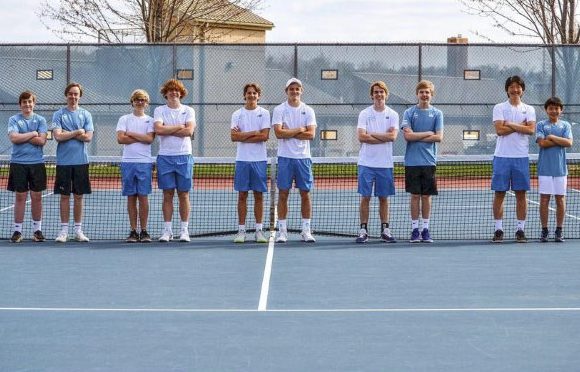 After a six year streak of State championship victories, the LHS boys tennis team strives to snag a seventh championship with five pairs of brothers playing together this season.
In their 2021 season, LHS boys tennis has a very unique team dynamic. For years, the team has consisted of different families, but this year, there are more pairs of brothers than usual. There are team members ranging from seniors all the way down to seventh grade. With the wide age range, many different families are given the opportunity to play together and many will continue to play throughout their high school years. The sibling duos consist of Arthur and Christopher Tao, Gage and Drew Gohl, Gavin and Gabe Schmit, Rocky and River McKenzie and Isaiah and Ian Campbell.
LHS freshman Arthur Tao has been playing tennis at the high school level since seventh grade; however, due to the pandemic cancelling the boys' 2020 season, this is only his second LHS season. Tao's younger brother, Christopher Tao, is a seventh grader at Edison and this is his first year playing at LHS. The two have enjoyed the experience of playing with each other and growing closer together not only as players, but also as brothers.
"My favorite part about playing with my brother is the connection we have. Even though we are apart most of the time it is pretty fun because we know each other well," said Arthur Tao.
Boys' tennis at LHS is known for greatness and they hope to continue the pattern. With the unique team dynamic, the players have enjoyed bonding with one another and seeing the different families play together. 
"The team dynamic is cool because there are different groups and different bonds of people that are closer to each other. It is interesting to see how we all interact," said Arthur Tao.
The boys are anticipating a strong finish to their season and high expectations for the future of LHS tennis. Gavin Schmit, senior and avid tennis player at LHS has enjoyed seeing the younger siblings interact with the older players as it ensures the team's roster in the years to come. 
"I think [we are] better together because you get to know who is going to be on the team right now and who is going to be there in the future," said Gavin Schmit.
This season has been enjoyable so far for the LHS tennis team, and they are excited for the greatness to come with the younger generation of brothers in the future.
Author
Sarah Bomhoff, Staff Writer
LHS Sophomore Sarah Bomhoff is a first-year staff writer for Statesman. Outside of school, Bomhoff spends her time at volleyball practice, volunteering...