John Means throws no-hitter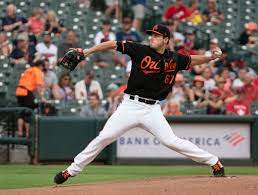 Throwing a no-hitter is like flying to the moon. You can see the distant light, taunting and mocking you. Is it possible? Not likely, but there's always a chance. Back in 1969 on August 13, Jim Palmer did the impossible for the Baltimore Orioles by throwing nine perfect innings against the Oakland Athletics. This was the same day that Neil Armstrong, Buzz Aldrin, Michael Collins drove up Broadway and through Michigan Avenue for the ticker-tape parades In New York and Chicago.
Palmer is now 75 years old and was the only Oriole to ever throw a no-hitter, until Wednesday when John Means threw a perfect no-hit game, establishing him in the history books for being the first to throw a no-hitter since Palmer. The score to the astounding game against the Mariners was six to zero, with 12 strikeouts and no walks. Four Orioles combined had a no-hitter in 1991, but Means' accomplishment set him apart from others. The game was his 44th career start and was his first time pitching longer than seven innings. 
"Pitching a no-hitter — and pitching a no-hitter with a complete game now, because they're so rare — is kind of like a hole in one," said Palmer on Wednesday night, after Means' no-hitter.
A hole in one is nearly impossible. Only people who have done it have the mindset that they can do it. The same applies to throwing a no-hitter. Regular MLB pitchers do not have the mindset of throwing a perfect game, but now that Means has done it, he will always have a no-hitter mindset which will help him achieve greatness in the future.
"So now, every time he takes the ball, he is well aware — because he's done it — that he could pitch a no-hitter, he could pitch a complete game," said Palmer.
Palmer's career ended with three Cy Young Awards, a spot in the Hall of Fame and led to a long career as an Orioles broadcaster. He was not working during Wednesday's game, but he has been following Means since he was drafted in the 11th round of the 2014 draft. At the age of 28, Means was able to get a spot in the all-star game and was the runner up for the Rookie of the Year award. This year his record is 4-0. Unfortunately, last year, Means' father, Alan, passed away because of pancreatic cancer. On Wednesday, Means secured the no-hitter and thought of his dad.
"I looked in my glove right before I went out there for the ninth, it had his initials on it, and I said to myself, 'He wouldn't care, he's just glad that I'm having a good time,'" said Means.
Means' incredible performance on Wednesday will place him forever in the history books as one of the only Orioles to throw a no-hitter. Because of this, Means' mindset will forever be different. Now, he'll always have a no-hitter mindset, because he knows he can do it. This mindset will lead to success in the future.