Something to prove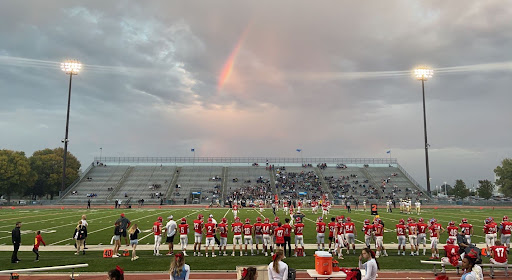 Going into last Saturday's game on Oct. 9, tension was high for the LHS football team. LHS was going up against JHS, the newest Sioux Falls high school whose team included past teammates. 
Naturally, both opponents felt they had something to prove to each other, whether it was that moving schools benefited their abilities or that staying at LHS was the better option. This game was also the tiebreaker for who would secure a spot as 3rd rank in the 11AAA division. 
"The first time playing JHS we didn't know what to expect. Were they gonna be good, were they gonna be bad but throughout the game we determined it was our game to win. Playing JHS for the first time is like going against someone who did you wrong, so it felt so good to get that win," said LHS football junior KJ Redd. 
As the game preparation began, the majority of the LHS team believed they had the capability to win against JHS. JHS is experiencing their first football season, so no opposing team is able to watch past year's film or know how the JHS team works together. Not being familiar with other team's plays or coaching styles can also be viewed as a large disadvantage when opponents are trying to prepare. All LHS knew going into it was their past teammates' performance levels and a minimal amount of game film from the first few games of this season. 
"Playing against past teammates changes the way you see the opponent. You know how they play and how they act on the field," said LHS football junior Elliot Renville. 
This is the game the LHS football team had been waiting for since they had heard that JHS was opening this school year. As the boys arrived at Howard Wood Field last Saturday there was a mix of emotions and stress looming in their heads. On a typical game day the first thoughts of most players was needing to get tapped up or do any heating. Players need to get these tasks done before "Winning Edge" starts, which is when all players meet with their position groups to talk over the game plan for the night. Then warmups began, and that was their first time sharing the field with the new Sioux Falls team. 
"To be honest, before the game I was very excited to go against the JHS d-line. I wanted to win so bad," said Renville. 
As the night went on and the game came to an end, a score of 38-18 lit the scoreboard, leaving the LHS football team gleaming. With coaches dancing on the field and teammates running to cheer each other on, LHS could not have asked for a better outcome. 
"After winning I felt a mix of emotions because not only did I start in the game I told [past teammates] I was going to but I beat them 38-18 with the defense only allowing one touchdown. [Our defense] made [their quarterback] throw four interceptions and get sacked six times," said Redd.