7th seed takes 5th at State in Constellation bracket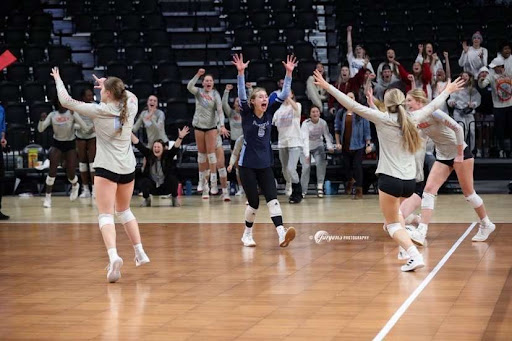 This past weekend wrapped up the 2021 LHS Varsity Volleyball season in Rapid City. The season started in August, and the team ended with a record of 21-12. 
Like any sports team, the girls were faced with challenges to reach their goals; amongst the struggles were situations like keeping an engagement in the games and staying humble to be able to work together. Their volleyball season started out strong but hit a bit of a downhill streak as the season can get long and draining. 
"If there was one word to describe this season, it would be a rollercoaster," said volleyball sophomore Linnea Nesheim. "This season was full of some great ups and some really unfortunate downs. We started off the season on a 9-1 record but somewhat fell into a slump mid season."
Stuck in the slump, the girls had to work extra hard to push themselves out of it. They used locker room talks, putting in extra work on the court and they successfully got back on their grind to pull out a good ending to the season and the chance to go to State. 
"Treating everyone fairly is a big variable when it comes to playing together as one team. That is just something we struggled with unfortunately," said Nesheim. 
The first day of the State tournament, the team took an unfortunate loss to OGHS but came back the next day with more intensity which gave them the chance to get wins against HHS and Huron High School. The team went into State being ranked 7th seed, and came out of the weekend as 5th in the Constellation Bracket, giving the team something to be very proud of for all the work they put in throughout the season. 
"This season, I loved State. We played some of our best volleyball all season there and really left it all on the court. I will miss the excitement of being on the court with my team," said LHS volleyball junior Samantha Zeeck. 
Although parts of the season did not go as planned, placing as high as they did at State does not go unnoticed for their commitment and dedication to the sport of volleyball.