Adele makes her return with '30'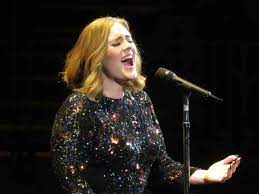 After taking a long hiatus away from the music industry, Adele has finally made her comeback with the release of her fourth studio album, "30." Fans are going crazy to finally be able to hear her angelic voice again, while Adele is now ready to share her story and her recent feelings with the world. 
Adele's newest album "30" is a classic album to expect from the one and only. She is known for being able to tell stories through her music and, notably, being able to make her audience feel something. This album was no exception to her capabilities. Given that Adele just recently went through a divorce with ex-husband Simon Konecki in the beginning of 2021, "30" left people feeling even more than they did before listening to her music.
Adele's album reads like a book, meaning to receive the full effect of the story she is trying to tell, the songs must be listened to in order. In the first track on the album, "Strangers By Nature," Adele's heartbreak is fresh, and we can tell. Lyrics like "I'll be taking flowers to the cemetery of my heart" and "No one knows what it's like to be us" show how real her emotions were as she was going through this monumental time in her life. Her divorce was just recently finalized, and given that she and Konecki share a son, Angelo, together, this time even more difficult to share. The last thing she wanted was for her son to experience a broken family, and we can tell as this is presented by arguably the most vulnerable song on the list "My Little Love."
As she directly acknowledges and even has a conversation with Angelo through the lyrics in this track, there is no doubt that her pain is shared with her audience. As she says "When you lay on me, can you hear the way my heart breaks?" and "I wanted you to have everything I never had," the audience can feel how much regret she has for what's happened. Her son is the most important person to her in the world, and the last thing she ever wanted was for him to watch his once loving family slowly fall apart. That is why this song holds so much importance on her album, as not only has the divorce been tough on herself, but also her son. Yet through it all, they had each other and got each other past one of the most difficult things they will ever have to face. Together, they are able to move forward. 
Adele has always played a huge role in the music industry, and after releasing this album, her role only grew. There is something so special about how vulnerable and raw she was with the audience on this album, as it shows that even people we look up to experience difficulties and do not live perfect lives. We applaud her for making this breakthrough with the world, and through her craft we were so graciously given a whole new album full of songs that are sure to make us feel something.