New books in the LHS library: November selections
The LHS library is a constantly evolving repository of information and stories. This month, LHS librarian Mary Peters offers three recommendations from the list of new titles in our library.
You'd Be Home Now by Kathleen Glasgow
Genre: Realistic
Emory Ward has always lived her life by who other people think she is. In town she is the rich kid, whose great-great grandfather of the founder of the town's mill. At school she is the "Hot" sister of Maddie Ward. At home she's the "good girl" who takes car of her stoner brother Joey. Her brother Joey and her were in a car accident that killed a girl and let everyone in town know just how bad Joey's drug habit really is.
Four months after the accident Emmy is starting her junior year and everyone keeps telling Emmy who she is, but how can she be who other people say she is when she isn't sure herself, but it might be time she starts deciding. Emmy also starts to realize that all the people in Mill Haven are more than they appear too.
Burden Falls by Kat Ellis
Genre: Paranormal
Rumors run rampant in the town of Burden Falls, from its cursed waterfall to the mystery of "dead-eyed Sadie," a dead girl who is said to haunt the area. Our main character Ava Thorn up in Burden Falls and ever since the terrible accident that claimed the lives of her parents, she has been having troubling nightmares where Sadie is out to get her. Then when someone close to Ava is murdered and she becomes the prime suspects, she can't help but wonder if there is more to Sadie then just legends and talk. Burden Falls has many secrets and there is a killer on the loose, will Ava be the next victim or is it all in her mind?
They'll Never Catch Us by Jessica Goodman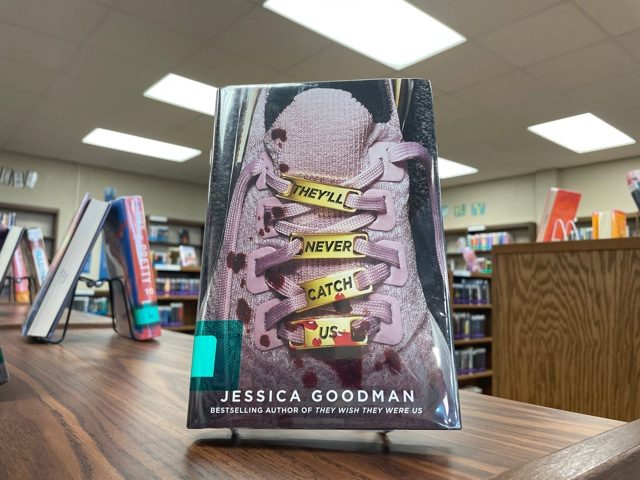 Genre: Mystery
The Steckler sisters are only one year apart in age but are completely different in personality.
Stella a is determined and pretty much always keeps to herself. Cross Country is her life, and she is not going to let anyone stop her from being the best. Ellie is a great runner too, but unlike her sister she lets herself have fun, goes to parties, and hangs out with friends, as she believes there is life outside of Cross-Country.
The sisters' lives are upended when Mila Keene moves to town. Mila is an outstanding runner that will for sure be seen as a threat. Even though Mia might be a threat Ellie is drawn to her and sees there is more to her than just a running competitor. Stella on the other hand wants nothing to do with Mila until she realizes that the two of them might just be a lot alike. As the regional meet approaches and college scouts are watching, the pressure is on. All three girls have their future on the line when suddenly, Mila goes out on a training run and never comes back. No one knows what happened, but all eyes are on the Steckler sisters, because why wouldn't they want to get rid of the competition?
Overall, there is much to learn from and much to enjoy in each book in the LHS library, so do not hesitate in stopping by and checking out a title, particularly if it is from this list.