Save a life, gain a friend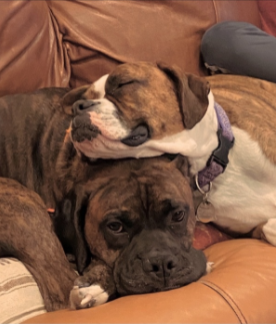 According to the World Health Organization, there are approximately 200 million stray dogs worldwide. With the cold winter season approaching, especially in places like the midwest where temperatures drop well below freezing, it is crucial to their survival that all animals have a safe place to call home.
Along with many other dog rescue organizations such as the Great Dane Rescue of MN and WI, the South Dakota Beagle Rescue and Retrieve a Golden of the Midwest, Northern Plains Boxer Rescue (NPBR) is a midwestern volunteer organization that works to give every boxer a deserving home. 
The NPBR takes in boxers of all ages, sizes and health conditions. Many of the boxers admitted to the rescue have backgrounds involving neglect, breeding facilities and homelessness with a large number of them being brought in because their owners can no longer care for them. Once a part of the NPBR, all of the boxers receive veterinary care and are assessed according to their needs so that they can be appropriately paired with their future families. 
In order to adopt a boxer from the NPBR, an application must be completed for the sake of assuring that applicants get paired up with a boxer that fits their wants and lifestyle. The application process is tedious and requires lots of time and specification, but it proves to be worth the hassle not only for the applicants, but for their new furry friend as well. The application takes people through a process of determining which of the boxers would be the best fit for them. Almost like a questionnaire, the application asks questions about current pets in the home, the role that the applicant would like their boxer to play (ex: hunting partner, child companion, guard), how the applicant would manage their boxer's needs to go outdoors and many other very specific questions so that the volunteers at NPBR are able to select a perfect match for the future owner.
The lengthy application process may seem like a hassle, but it is what makes the NPBR so unique. Rather than allowing just anyone to come in and adopt a pet, the NPBR analyzes each application form to ensure that the applicant would be a match for one of the foster boxers. Think about it like one of those "What is your spirit animal?" Buzzfeed quizzes- you take the "quiz" and then get your results- the perfect boxer based on your personality, wants and lifestyle. Not only does this process help guarantee the owners happiness regarding their new pet, but it helps guarantee that every boxer from the NPBR will be placed in a real, permanent home. 
Upon adopting from the NPBR, not only will a boxer receive a forever home and a lifetime of love, but the owners will receive a loyal companion, a playful friend and especially a cuddle buddy. Boxers are an all-in-one package when it comes to a pet, as they are naturally energetic and high spirited, but simultaneously chill and more than willing to snuggle up on the couch for a nap. When in need of a forever furry friend, look no further than the Northern Plains Boxer Rescue where a future companion is waiting for you.