Alterations to the Grammy Awards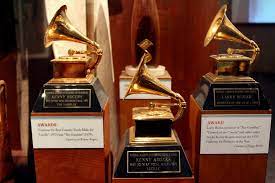 Returning on Jan. 31, 2021, are the long-awaited 64th Grammy Awards, otherwise known as "Music's Biggest Night". After last year's socially distanced COVID-friendly event, attendees are excited to be returning to the show's roots at the infamous Staples Center in Los Angeles. Starting at 7 p.m. CT, the three-and-a-half-hour-long event will be broadcasted live and hosted once again by entertaining TV personality, Trevor Noah.
Despite the return to normalcy regarding venue and host, some things are changing for the 2022 show. For one, the total number of award categories will rise to 86 with the addition of two new categories, Best Global Music Performance and Best Música Urbana Album. 
Alterations will also be made to the nomination and voting process. In past years, nominees were chosen by the Academy's voting committee consisting of only 15-30 individuals. Because of this, the Academy has faced years of accusations of bias against women and Black artists, complaints about the unfair voting system and even suspicion of secret committees and alliances. Artists like The Weeknd have even decided to boycott attending the show due to these unfair practices. This year, all nominees were selected by a majority of all voting members. 
Additionally, these members will only be allowed to vote in 10 categories rather than the previous limit of 15, and members are strongly encouraged to only vote in their areas of expertise. As for results, once all the votes are gathered, they are verified by an independent accounting firm, and the nominee receiving the most votes is named the winner. In the case of a tie, both top artists are declared winners.
Some artists up for this title for the first time include ABBA, Selena Gomez, Low and Japanese Breakfast. Other first-time nominees include The Kid Laroi, Saweetie, Olivia Rodrigo and Silk Sonic. These artists are nominated for major categories like Album of the Year and Song of the Year. Perhaps the most anticipated category of the night will likely once again be Record of the Year. Some hits up for this award are Oliva Rodrigo's "drivers license," Billie Eilish's "Happier Than Ever," "Kiss Me More," by Doja Cat Featuring SZA and "Leave The Door Open," by Silk Sonic.
With a legendary venue, a fairly altered voting process, amazing awards and star-studded attendees and performances, the Grammys guarantee a fantastic evening of entertainment.