The perfectly-imperfect ending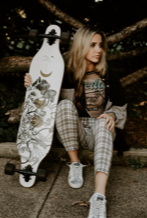 The years between a student's freshman and senior year seems to fly by faster than one would anticipate. From the beginning of registration to the last goodbyes and well wishes it all can seem like a blur. Cherishing those last few months of living at home and creating those memories that will fulfill the high school chapter can be an emotional period for some. 
Even though a senior year can seem like an easy let go with open periods and buckets of freedom, the last moments can be stressful not only in the aspect that the student is experiencing their lasts but with all the pressure of perfection that comes along with it. "I hope your senior pictures turn out perfect," or "Your graduation party and invites are coming so close," students in this place are nearly grasping for the perfection they wished they would never have to experience. 
In other words, let the students experience their last semester or two of highschool without the precedents that have plagued students for years.
"I feel pressured but at the same time I don't have a reason for why I feel that way. I feel like I have the expectation of needing to live up to unrealistic expectations of people around me," said LHS senior Dustin Volkers.
Volkers is not alone in feeling this way. In fact this feeling might be more prevelate than most anticipate. 
"Being perfect for college admissions is something I feel pressured for. Making sure I graduate with the goals my parents have set for me as well as the expectation to perform better than my older siblings," said Volkers.
A lot of times parents can intentionally or unintentionally place the expectations of older siblings. 
"I just have learned to realize that I don't care what people think and the expectations that people have for me [for my senior year] doesn't impact who I am as a person. People's view of me isn't how I view myself," Volkers.
Instead of providing a student with how to finish a successful senior year, let's allow the student to grow into the person they wish to become.