The word on Wordle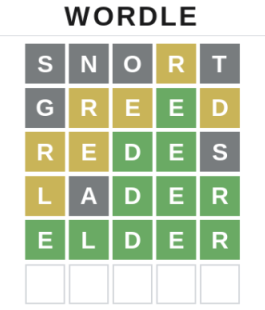 Word games from crossword puzzles to scrabble are popular among people of all ages, but there is a new game gaining popularity, and its name is Wordle. 
This new, color-coded daily word game has been seen lighting up phone and computer screens recently. Wordle has seen an increase in popularity across the internet since its creator Josh Wardle released the game in October of 2021. According to The New York Times, "On Nov. 1, 90 people played. On Sunday, just over two months later, more than 300,000 people played." Now millions of people play the game daily. 
So how do you play? The aim of the game is to guess a five-letter word within six tries. Once a word is guessed each letter of the word will either turn gray, meaning it is not in the word, yellow if it is in the word but not in the place it was guessed, or green, if the letter is in the correct placement in the word.
While the concept is simple, the game has attracted a large fan base. Part of the appeal comes from the fact that the Wordle website only gives users one new word to guess a day, which means they must wait 24 hours for a new word. This daily word is the same for all players, which adds a social element to the game as people can share and compare their scores via social media or work through the word together. The website, unlike many other online games, has no ads, push notifications or fees. It is completely free to users. After playing, the website gives a summary of a player's total times played, their current streak, their best streak, percent wins and a countdown until the next word will be available. 
Some players have developed strategies to figure out the word such as starting off with a word with a lot of vowels like 'audio' or 'adieu" or with a word that has a lot of consonants like 'snort." Wordle has now been bought by The New York Times which announced that the game would be joining The New York Times Games on Jan. 31. You can try out the game yourself at https://www.powerlanguage.co.uk/wordle/!