Aaron Rodgers coming back to Green Bay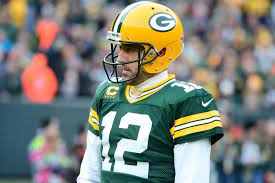 After months of rumors and speculation, quarterback Aaron Rodgers will be returning to the Green Bay Packers for the 2022-23 season. 
Reports came out on Tuesday stating that the 38-year-old plans on signing a four-year, $200 million contract extension. This contract would make him the highest-paid player in the NFL. However, Rodgers took to Twitter to dismiss these contract rumors.
"Hey everyone, I just wanted to clear things up; YES I will be playing with the Packers next year, however, reports about me signing a contract are inaccurate, as are the supposed terms of the contract I 'signed.' I am very excited to be back #year18," said Rodgers via Twitter. 
Many analysts and reporters believed that this past season would be the final time we see Rodgers suit up in a Packer uniform. Rodgers has actively voiced his frustrations with Green Bay's front office and management team. Disagreeing with many of their past acquisitions and draft picks. Most notably when the Packers decided to trade up and select quarterback Jordan Love in the first round of the 2020 NFL draft. 
Fortunately for Packers fans, the relationship between Rodgers and Green Bay's front office improved tremendously this past season. During the NFL honors ceremony, Rodgers discussed the growth both sides made and thanked the organization for making him feel special this past season.
"I was obviously frustrated about some things in the offseason," said Rodgers via si.com. "We had a ton of conversations, and I just felt like there was so much growth, and I'm so thankful for that. I'm thankful for the relationships – with Brian as much as anybody – because there were obviously some things that were voiced in the offseason, privately between him and myself, and I'm just thankful for the response. There were a lot of things that were done to make me feel really special and important to the present, the past and the future of the franchise. It didn't go unnoticed."
Rodgers is coming off back-to-back MVP winning seasons, in which he led the Packers to consecutive 1st place finishes in the NFC. Including an NFC championship appearance in 2020. However, this past season ended in a disappointing 13-10 loss against the San Francisco 49ers in the second round of the playoffs. 
Rodgers and the Packers will look to continue their success next season. Rodgers's decision to come back puts the Packers in another position to win a Superbowl, something this team has not accomplished since 2010.