The Sioux Falls State Theater celebrates its 96th birthday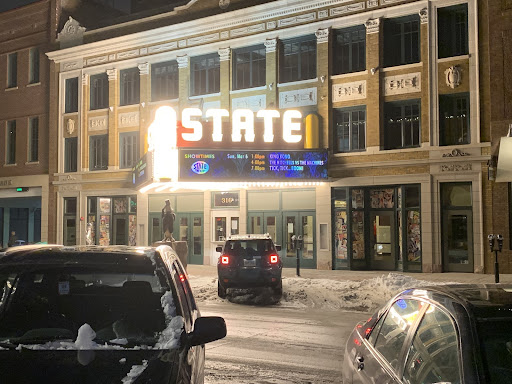 On Mar. 2, 2022, the State Theater located in the heart of downtown Sioux Falls celebrated 96 years since its grand opening.
Originally constructed by the Henry Carlson Company, the historic theater has maintained its place as an essential part of Sioux Falls history. The theater showed films to audiences of many different ages for the over 70-year run from 1926 to 1990. Starting out as a silent film house, the theater brought a new touch of entertainment to Sioux Falls. As technology advanced, and talking pictures became the spectacle of audiences, the theater changed to show movies with sound as viewers do today. 
In 1956, the State Theater was even home to the world premiere of "The Last Hunt," which was shot in South Dakota. However, the immense success of the theater eventually died out. In 1991, the theater closed due to the deterioration of the building itself, along with the diminishing interest in downtown Sioux Falls as malls became more and more popular. Although this dire situation seemed to have no obvious solution, many individuals came along to restore the theater in later years.
The Sioux Falls Film Society purchased the theater for $200,000 in 2001. They later raised enough funds to replace the roof in order to protect the theater from further water damage. Unfortunately, it would take much more time and money to restore the theater to its former glory. In 2005, the current owners of the theater, the Sioux Falls State Theater Company, purchased the theater with a plan to raise funds and open it up to the public once again. After raising over $3.4 million, along with spending about 15 years renewing and renovating the building, the theater finally reopened in December 2020. It dazzled patrons with its electric reclining seats, grand design and a wide variety of films, including film-buff favorites, classics for the whole family to enjoy and even new releases brought to the grandeur of the establishment.
There is no doubt that the State Theater has had a long and tough journey to where it is today. But it has risen above adversity and still continues to bring joy to audiences each and every day. As a local independent theater, the State Theater will only stay successful with support from patrons. So do not be afraid to buy a ticket at https://siouxfallsstatetheatre.org/ and receive a full and authentic movie-going experience in celebration of its 96th birthday