Tyreek Hill traded to Miami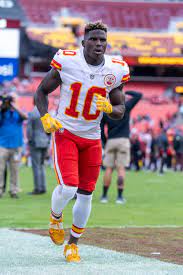 On Mar. 24, 2022, Kansas City Chiefs receiver announced he would not be returning to his reigning Super Bowl champion team, but would instead be joining the Miami Dolphins via trade.
Many thought it would be an easy decision for Hill to make in his off-season, but he surprised everyone by not returning to what is widely known as the most high-powered offense in the league. The tandem of Patrick Mahomes, Travis Kelce and Hill is a big three that ran the league for a few years, winning the Super Bowl two out of the last three seasons, so many fans assumed Hill would at least finish his contract and pursue more rings. However, hours after the Chiefs picked up free agent Juju Smith-Schuster, the five-time Pro Bowler and three-time All-Pro receiver made the controversial decision of coming to a trade agreement with the Dolphins. This trade involves a 2022 first-round pick along with four other draft picks.
While Hill is leaving a talented team, he will be joining second-year receiver Jalen Waddle who is coming off of a one-thousand-yard rookie season. Many have compared the two in the past because of their almost identical height and weight and explosive play styles. So, what does this trade mean for the Dolphins? Waddle and Hill is a more than solid start for the Dolphins' receiving core, and they will be joined by former Arizona Cardinal running back Chase Edmonds who is a quality addition to the backfield which already includes Myles Gaskin and Raheem Mostert. The Dolphins will be led by Tua Tagovailoa, who is known to be streaky, so it will be interesting to see how Hill performs without the most exciting quarterback in football on his side.
On the contrary, the Chiefs are essentially swapping Smith-Schuster in at the WR1 position in place of Hill, as well as collecting some of Miami's draft picks through the trade for Hill. Smith-Schuster is not as explosive after the catch as Hill, so it will be interesting to see how Andy Reed and the Chiefs adjust to not having the fastest player in football on their side of the ball.