A triple-threat athlete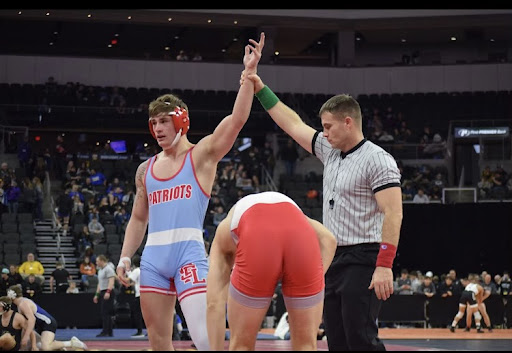 Bryce Kwiecinski, LHS senior, has participated in high school athletics year round while keeping up with AP and dual credit classes and maintaining a job all simeontasouly. Kwiecinski has played football, thrown for track and field and wrestled all four years of high school. The sports seasons generally overlap going from one season to the next in a span of days. 
Kwiecinski played Defensive Line in football all four years and began playing on the varsity team as a junior, along with throwing Shotput and Discus for two years on Junior Varsity and also competing at the Varsity level as a junior. He placed 8th at State wrestling his senior year and holds the pin record. He initially started wrestling and track to get better at football, but wrestling ended up being a better fit for him than football had been. 
"I started wrestling freshman year to get better at football, but over time as I got better it took over my love for football," said Kwiecinski. "But throwing has always been something extra to do because the football coaches wanted us to do track, so I decided to take up throwing."
Kwiecinski owes his time management and work ethic to his dad, who has always pushed him to be involved and put his best effort forward, especially when it comes to school and sports. 
"I don't get overwhelmed because I always have had my dad on me about my grades since freshman year, so it keeps me in line to manage sports, school, work and everything going on. I usually get my homework done during WIN and when we have extra time in classes, so then I don't have to worry about it after sports," said Kwiecinski. "I do this because I like to go home and then go to the gym. On weekends I ref flag football and then usually on Sundays it's my homework day."
Although the sport seasons do not technically go outside of the school year, in the summer Kwiecinski has lifting and practices for football and open mat for wrestling. He also lifts on his own in the summer and has a full time job lifeguarding. 
"Being in sports all my life and having people push me to work hard and stay in line has made me gain a good work ethic and maintain good grades and skills for my future," said Kwiecinski. "I like staying busy in sports because it always gives me something to do, otherwise I would get bored. It's also great to make friends and get closer with coaches."