Letting go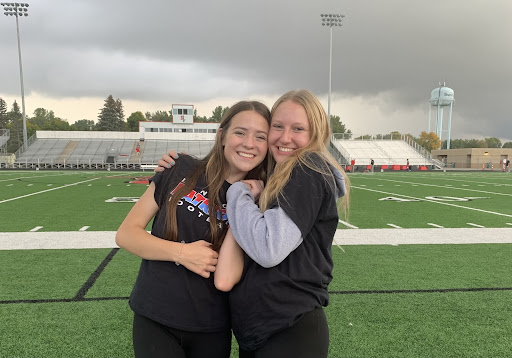 I hate saying goodbye. I always get attached easily to any concept whether it be people, activities or places, and letting go of them has never been easy. 15-year-old Allie walking into LHS orientation never would have believed it would go by this fast. Four years felt like forever and being a senior seemed so foreign, something that wouldn't happen for ages, but here I am with not even half a dozen days left being forced to say goodbye.
Truth be told, the actual concept of school I dread. I have no desire to spend seven hours doing math problems. It's the reality that I will never be able to recreate the same environment of relationships and humor that I have been normalized to the past four years. The amusing activities, labs, club days, delivery days and games in class are what's hardest to say goodbye to within the classrooms. Saying goodbye to the Statesman atmosphere is a whole new level of hard. 
Through my four years, I have found friends in teachers, peers, faculty and staff. The first friend I found outside of the student body was Ms. Meyer, my Ad Room and World Geo teacher, and she has always been there through any tears and stressors I experienced over the past four years. This has grown to be one of the many goodbyes I will dread. Past just that goodbye, I have many other teachers that I have grown relationships with and will miss even the simplest "Hello" from each of them in the halls. 
I also have to say goodbye to the many sports I was in over the years: volleyball, basketball, track, football managing and golf. Though clearly, based on the vast list I am able to generate, I never exceeded expectations within the sports. I left each one with friendships and bonds that could not be formed in any other environment. In those experiences, I also was able to learn from coaches that supported me and always had my best interest in mind. 
As I am learning to let go and embrace my next chapter of life, I am also blessed for all I have learned within these walls. I have learned that I need to be kind to myself and not compare myself to what others are capable of because I too have qualities to bring to the table. Along with this, I have learned that everything works out and occurs for a reason, though it may be hard to see. Lastly, I have learned that I am never as alone as I may feel. There are always teachers, staff and other students around to encourage me in any time of need. Of course, I have also learned academic knowledge, but what I have learned through experience will always hold value to me as I go into my next stage in life. 
That being said, it is now time to let go of LHS and the home I've found within this place.