What the Statesman staff did over the summer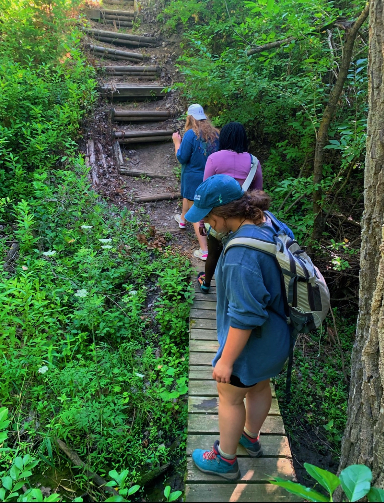 After the final bell rang back in May to announce the start of summer, the Statesman staff parted their ways until the next school year. This meant no more Statesfam Fridays, Statesman Olympics and not a single story posted or shared for months. The break left many people heartbroken constantly wondering what their favorite staff members were up to. To right the wrongs we have done by leaving our valuable fans in the dark, this story is here to provide all of the fun details you have been missing out on this summer.
Statesman's own editor-in-chief, Emma Forster, took me camping for the first time ever this summer. While I quickly learned that I appreciate good old-fashioned air conditioning and my own bed, Forster was lacing up her hiking boots bright and early for a nice 4-mile morning hike. Along with my camping trips, I spent my summer sleeping, going on college tours and of course hanging out with my dog.
Feature editor Vanessa Timat had a much more exciting summer. She spent most of her time nannying and working at the iconic B&G Milkyway. But the real highlight of her summer was the mission trip she took to Mexico. There, she built houses for families in need and learned lots of valuable lessons.
News editor Kate Matthes and staff writer Betsy Haft both had very similar summers that included traveling to England. Haft attended the Wimbledon Championships which is the oldest tennis tournament in the world and is widely regarded as the most prestigious.
Staff writer Fisher Meyerink had a summer full of the arts. Meyerink embraced the rigorous LHS marching band schedule by spending each day outside with the sun beaming down on him while playing the tuba. In addition to that, he spent most of his days doing musical theater. This includes DAPA's two-week musical and being on the leadership board for a grassroots organization called Fine Arts for Friedreich's Ataxia. In his spare time, Meyerink also spent his time with his best friend, staff writer Katie Jensen.
All of the Statesman staff had a great summer but are so happy to be back in the J-lab creating beautiful layouts for their stories in the October Issue.