Controversy with Dahmer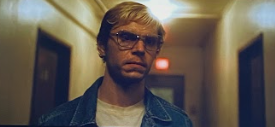 On Sept. 23, 2022, the third take on the serial killer, Jeffery Dahmer, in the past two decades was released Monster: The Jeffrey Dahmer Story. The storyline follows Dahmer as he pursues and kills young men. This eventually turns into his arrest and prosecution. 
Monster has become one of Netflix's most-watched series since debuting; however, the criticism over the show has grown as quickly as its popularity. Many family members of the victims of Dahmer are speaking out against the series, as they find it retraumatizing for them. The series also got hate after Netflix labeled it "LGBTQ" content. With the drama over this choice arising on TikTok, Netflix quickly removed the label.
As soon as the show hit the public, Ryan Murphy and Ian Brennan, series writers, received tons of criticism. Most abundant being Rita Isbell, the sister to Errol Lindsey, who was one of Dahmer's victims. Isbell also gave an emotionally-charged victim impact statement at Dahmer's 1992 sentencing. Isbell wrote an essay for Insider, in which she mentions how she was "bothered" after watching parts of Murphy and Brennan's show. DaShawn Barnes plays Isbell in a statement scene, which is recreated to add a dramatic effect to the show.
Isbell wrote, "I was never contacted about the show. I feel like Netflix should've asked if we mind or how we felt about making it. They didn't ask me anything. They just did it." Isbell added, "But I'm not money hungry, and that's what this show is about, Netflix trying to get paid."
The second controversy grew over the labels Netflix tagged the show on its page. Monster was labeled "Horror," "Ominous," "Dark," "Vintage crime," "Psychological," and "LGBTQ." Examples of shows that can be found under "LGBTQ" tag include: Heartstopper, Sex Education, and AJ and the Queen. When this was seen by Netflix users, many were shocked. It was jaw-drooping for many to see a show that highlights the brutal murders of queer men being acknowledged as an "LGBTQ" show. 
In a recent Tik Tok, someone asked, "Why the f**k did Netflix tag the Jeffrey Dahmer documentary, LGBTQ?" Another viral Tik Tok stated, "I know it's technically true, but this is not the representation we're looking for." Later on, the tag was removed with no official comment from Netflix. It is unclear exactly when they removed the tag.