Is this the end of LHS gymnastics?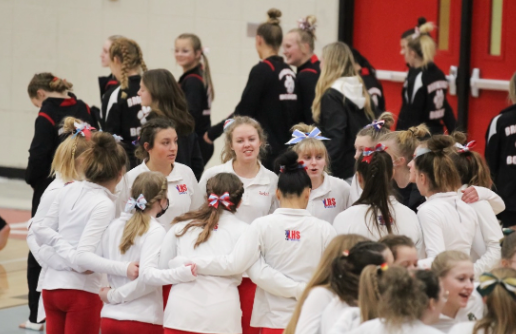 Every year the budget committee on the Sioux Falls City Council tries to cut or move two sports from schools. This year from LHS, one of the sports, like most years, is gymnastics. 
Recently there has been a big debate between the school board and the LHS gymnastics program on whether or not gymnastics should stay at LHS or move to a club building where all of the Sioux Falls public schools would practice at the same building. Moving the program would take away their already set practice schedule, be a smaller place to practice in and simply would not benefit the team. This has been frustrating for many girls on the team.
The major downside of moving gymnastics to a club and not a sanctioned sport is that the schedules will be unorganized for each school. JHS and RHS would have to practice from 6-8 a.m. every morning and LHS and WHS would practice from 7-9 p.m. With the club building already being a very busy place during the season, many are worried about the lack of space. Eva Knudtson, a senior at LHS has been part of LHS gymnastics since her 7th-grade year and is very passionate about her sport staying as is.
"I know how this team works, and what we need to be successful and it is to have our own space," said Knudtson.
Knudtson and LHS gymnastics coach Les Coin both believe that if they were to move their program, many girls would have to quit the team for a variety of reasons, one of the biggest being cost. If they were at the club building the girls would have to pay a lot more money in order to participate in this activity because of the new space and different faculty. The change in location to the gym in Harrisburg prohibits many athletes from practicing as frequently. The girls are also upset that the time change makes them drive for longer extended periods while it is still dark outside during the winter. Many argue that moving the program would be unreliable because when OGHS made a similar change a few years ago, they got kicked out mid-season, and the girls are worried that this could happen to them too.
On Oct. 12, a majority of the girls and parents on the team filled a city council meeting to express their opinions on the future of their team. Knudtson, her father, Coin and the past OGHS coach are a few of the people that spoke on behalf of the program. The team finally got the news they were fighting for, and LHS gymnastics will be saved for another year. For the 2022-2023 season, the girls are cleared to continue practicing in the gym, but Knudtson and Coin believe the fight is far from over.
"My worry is that because the whole varsity team is seniors, our parents aren't going to be team parents anymore, so they will say their opinions may be seen as invalid," said Knudtson. "It makes me nervous for next year because they might try and take it again."
Removing gymnastics as a sanctioned sport in the district would not just impact the girls here in Sioux Falls, it would affect the whole state. If the biggest school district in South Dakota does not have gymnastics, many schools may follow suit. Coin believes that many other schools' athletic directors are carefully watching this situation play out in order to see what they should do at their school.
"If they did [get rid of LHS gymnastics], I bet that in 2-3 years there would not be [school] gymnastics in South Dakota," said Coin.
Despite the constant attacks LHS gymnastics has received, they will not back down. Athletes such as Knudtson continue to fight for their program with Coin constantly backing them up. They believe that gymnastics is a valuable asset to LHS and will continue to fight for it.
"You just have to stand up for what you think is right, and I stand up for this sport because I cannot have these kids not standing up for things in their future," said Coin.