17th annual Project Warm-Up
This year marks the 17th annual Project Warm-Up, a great opportunity for students to get involved in the Sioux Falls community.
Each year, Project Warm-Up is dedicated to making and providing blankets to those in need of comfort for reasons such as homelessness, illness and poverty. The project has partnered with local groups like Habitat for Humanity, children's hospitals, the Teddy Bear Den, Children's Home Society, Avera Behavioral Health, St. Francis House and more. Blankets are delivered to many different people including those who are undergoing chemotherapy, children placed in foster care, victims of human trafficking and people impacted by tornados or floods.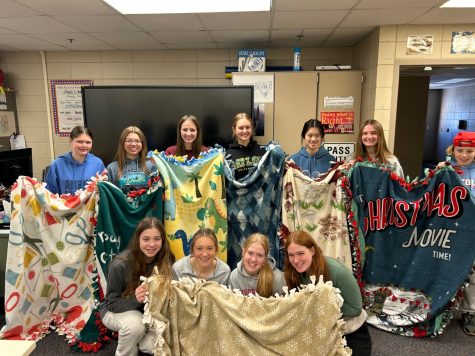 Project manager Tracy Vik first started the project with her daughter, who was a junior in high school at the time, in 2006. The project began at LHS as a part of the Key Club and during the first year Vik, her family and LHS students made 100 blankets for homeless students. Now, over 1,000 homeless students are identified in the school district and given blankets each year. Working with school counselors, the blankets are distributed to these students before the December break. Homeless students are present in every school in the Sioux Falls School District in a variety of situations. Some students are living in shelters, hotels, on the street or in their cars. They may even be staying with another family or living with a large group of people within a small space. Vik knows that a blanket will not fix the situation completely but that it will at least provide comfort and warmth – an important goal.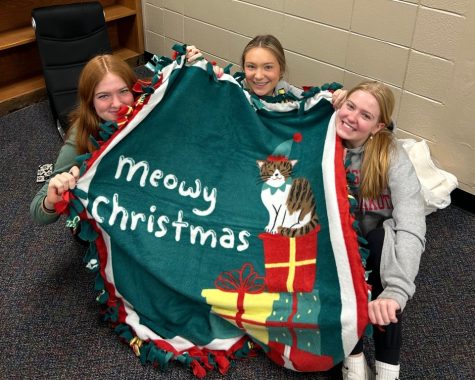 Project Warm-Up relies solely on the work of volunteers to donate fleece, funds and their time into putting together blankets. The project has made over 32,000 blankets over the years with about two to three thousand made each year. Hundreds of volunteers participate in blanket-making parties throughout the year. In the past, volunteers have hosted parties for birthday celebrations, workplace Christmas parties and sports teams or clubs. You can get involved this holiday season by attending the blanket-making party that will be held on Saturday, Dec. 10 from 11 a.m. to 3 p.m. at Sonia Sotomayor Elementary School. Donations can be dropped off at the elementary school located on 1510 S Lake Avenue, Sioux Falls, SD. Project Warm-Up works year-round delivering blankets and also accepts donations year-round, so if you would like to get involved or host a blanket-making party of your own feel free to do so anytime! For more information go to http://www.projectwarmup.org/