Humans of LHS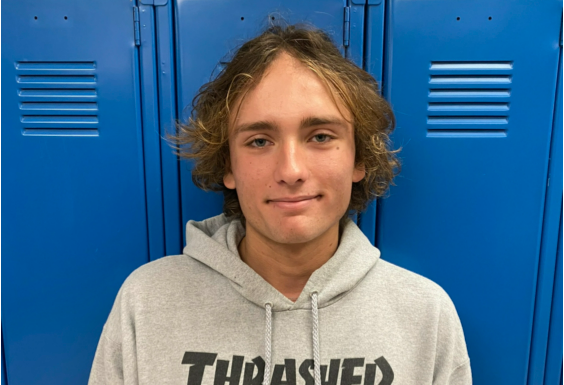 The Instagram page Humans of New York (@humansofny) has risen to fame in the past few years because of its unique and interesting ways of storytelling. The page features pedestrians on the street every day, each with their own interesting background or story. The primary purpose of the posts is to show that people can never really tell a lot about a person by just looking at them. Some people featured on the page end up having numerous parts posted about their story while others just share a simple quote. The page shows that humans are more connected than initially thought. This led me to wonder what LHS students have to share. I interviewed three completely random students and one staff member from LHS in order to prove that there is so much more than what meets the eye to people.
Isaiah Kroesche: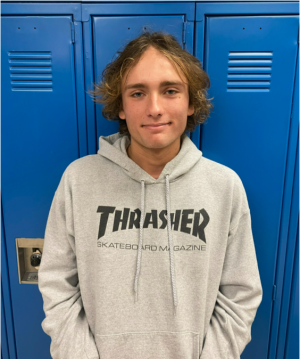 Isaiah Kroesche is a senior at LHS but if you ask him what grade he is in, he might respond with, "mostly C's and D's". Although he might be known as the ex-cross country runner or class clown, Kroesche could also be characterized by his "small business," skateboarding, job or crazy stories.
SD Ice was a booming business that Kroesche started off at the beginning of the cross-country season last year. He would acquire chains in unique ways and advertise them on his Instagram account made personally for the chains. He would sell them to all types of people around Sioux Falls for quite a large profit and ended up making around $300 in the span of a few months. Although the business' run ended after a few short months due to a lack of interest, Kroesche still takes a lot away from the experience.
"It taught me how to make a business, talk to people and hustle at a young age," said Kroesche.
A day in the life for Kroesche consists of arriving at school late and attending a few classes before driving his car, which he has characterized as the "turf oasis" to work for the rest of the day. The turf oasis gained its name when he was offered turf from a dumpster that he put in the back of his car along with a hammock. Kroesche finds this helpful when he wants to take naps during WIN time or just hang out after work. Every weekday, he attends his job of landscaping around the city, which inspired his future career. After graduating this semester, Kroesche will attend STC and then trade hop to explore other types of jobs. One of the reasons Kroesche loves his job so much is because of his older coworkers that he sees as mentors.
"My coworkers bring joy into my life," said Kroesche. "they have taught me lots of things like how to put in an irrigation system."
In addition to his small business and exciting job, Kroesche still finds ways to spice up his days and find new adventures. One of Kroesche's fondest memories was when he switched shoes with a homeless man. As Kroesche gave up his pair of white Nike running shoes, he was handed over a pair of steel-toed work boots that he wears every day to work. He finds these situations common throughout his life and even gave the man his skateboard. He believes he finds himself in these adventures because of his personality and how easy to talk to he is.
"A sentence I would use to describe me is dope as ahhh," said Kroesche.
Mary Steffen: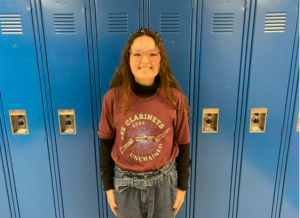 While a majority of high schoolers can be found working at the local Starbucks or Target, Mary Steffen has a rather unique job that many may have never even thought about. Steffen works two jobs, one is a receptionist at the Man Salon and the other is at her mother's tarp shop, Cardinal Canvas. She helps complete many tasks throughout the shop such as organizing papers and undertaking busy work, but she also often is sewing rings into the fabric to have a place for rope or hooks. This rare job is just one of the activities that set Steffen apart from others.
Some may know her by her distinctive and iconic cow print shoes, but others probably know Steffen through band. She has been playing the clarinet since around the age of 10 and has learned many valuable lessons throughout that time. Not only has she kept this hobby because of the friends and community she has made, but because of what she was told by her first clarinet teacher. As Steffen was crying about the music she was struggling with, she was offered a piece of advice that she would apply to every other life event.
"My teacher told me, 'It's ok if you're crying about it because it shows that you actually care.' That has stuck with me my whole life," said Steffen.
Nathaniel M Borgum: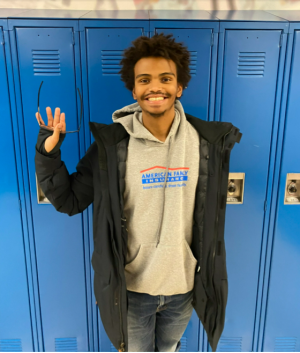 Besides video games and food, Nathaniel Borgum's favorite pastime is arguing. Borgum finds joy in expressing his opinion especially if it's against another person.
"I love arguing." said Borgum. "It is my favorite thing to do. It is fun saying your opinion is right and the other opinion is wrong."
Arguing has allowed Borgum to express himself and understand a variety of topics. His love to arguing has led him to potentially pursue law as a career.
Kimberly Bowman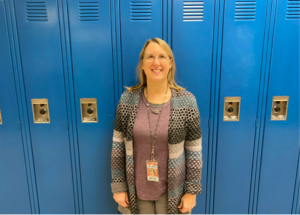 Meet the gatekeeper of LHS, making sure everything is in order. Bowman prides herself on being the self-proclaimed gatekeeper, whether this implies triaging students for their intentions on seeing counselors or even registering new families to the school. She prioritizes her line of work as "customer service" and believes that everything she does is in her "customer's" best interest. Her work may go unnoticed sometimes but that never stops Bowman from running the school.
"Helping students and families is my favorite thing to do here," said Bowman.
Even with her amount of help at LHS, Bowman still has an adventurous life outside of school. When she is not traveling to see her family or hiking on new trails, she can be found doing science experiments with her grandkids. She loves to see them discover new interests such as their latest experiment: elephant toothpaste.
"I like to see them try and figure out why it happened," said Bowman.