LHS JROTC instructor responds to a new investigation into nationwide programs
A New York Times investigation recently found that thousands of high school students nationwide are pushed into Junior Reserve Officers' Training Corps (JROTC) programs, either by schools making them mandatory or putting the class into students' schedules without their knowledge.
While the government-formed curriculum describes the program as an elective course, the New York Times discovered that dozens of public schools across the country have made the class mandatory or enrolled at least 75% of the student population from each grade level into the program. The JROTC regulations urge schools offering the class to retain an enrollment of at least 100 students or 10% of the school population, whichever is less. These regulations place more recruiting pressure on schools, luring them to implement the course as mandatory.
These discoveries surprised LHS MCJROTC instructor and retired U.S. Marine Corps Sergeant Major Scott Bakken, and he wants a continued sense of transparency between the program and the public in the wake of this investigation.
"I have been here 20 years. We don't force people to join. We don't make it mandatory. I didn't know that there were programs that did," said Sgt. Maj. Bakken.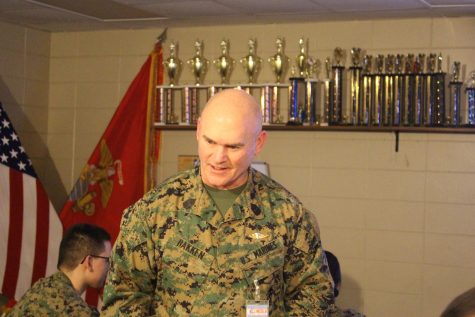 He believes that the burden of these investigated programs falls on the school districts choosing to make these decisions rather than the nationwide JROTC leadership.
"If it were a service thing, I would have heard about it. This is a school thing," said Sgt. Maj. Bakken.
Sgt. Maj. Bakken states that making the course mandatory would ultimately lead to adverse consequences, including student unhappiness and behavioral problems within the classroom.
"If you made it mandatory for everyone to take it, then you would have a lot of problems in the classroom with people not wanting to be there," said Sgt. Maj. Bakken. "We want everyone in the class to want to be there because then you get people who are motivated, and the class chemistry is much better."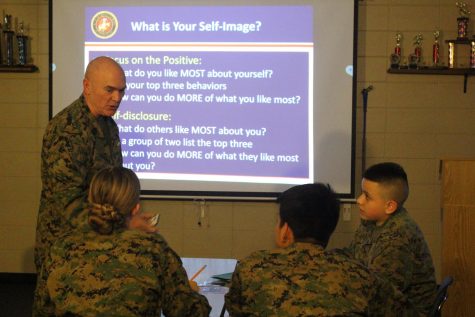 To retain a positive and attentive atmosphere, Sgt. Maj. Bakken tries to recruit students who will genuinely enjoy the class and gain the most from its curriculum. If a student does not want to participate, he does not try to force them.
"I can't make a student have fun. If they come in grumpy and not wanting to participate, I can't make them turn around," said Sgt. Maj. Bakken.
Public opinion often associates the nationwide JROTC program with military recruitment; however, Sgt. Maj. Bakken is passionate that LHS JROTC students can gain wisdom and experience from the class that they can apply to their lives whether they go into the military or not.
"I am here to teach leadership," said Sgt. Maj. Bakken. "It will benefit [students] in the long run. Not just later in life, but in high school itself, leadership and doing the right thing will help steer them away from falling into a bad crowd or doing something wrong that will get them into serious trouble. There are a huge amount of things here that you can learn and apply to your life right now."