The soaring Mr. Myers
There is a loud rumble of engines. Strong wind bursts out of a turbine. The smell of gas and freedom fills the air. While some may fear this intense setting, David Myers feels at home on the runway and in the atmosphere above. 
Students and faculty know him as a seasoned LHS counselor; however, Myers possesses an aeronautical side to him that is not as apparent. His love for airplanes has followed him throughout every point in his life. Myers discovered his love for aviation on his childhood farm. 
"Flying started when I was really really little," said Myers. "I grew up on a farm and when I was little, I would lay on top of the haystacks and look at all of the contrails going across the sky. That was my first passion."
His passion developed with him as he grew up, and soon he gained the knowledge to navigate the skies himself.
"Moving on from there, I was always looking at airplanes and going to the airport. After I graduated college, I got my pilot's license," said Myers.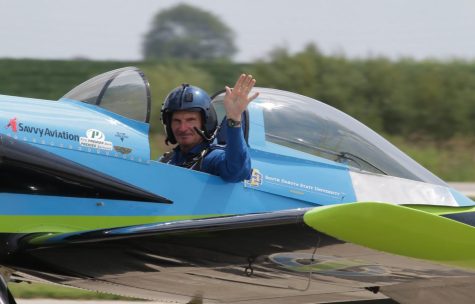 Once he learned how to fly, the freedom of the air exhilarated Myers. Even today, that freedom flows through him at the start of every takeoff.
"Flight is freedom to me," said Myers. "You pull the plane off the ground and you are free from everything else that is going on down below you."
When Myers first started, he found that flying is not always as effortless and relaxing as it may look.
"There is always anxiety," said Myers. "But when I first started, there was a lot of anxiety with flying aerobatics and everything." 
Over time, he gained the experience and skills needed to manage this anxiety and fly elaborate air shows. Myers currently flies with an aerobatic formation team called the Vanguards based out of Tea, South Dakota.  As the lead pilot, he keeps track of the rest of the team to ensure shows are carried out accurately and safely. He has traveled to various locations to perform with the squadron over his last 10 years of flying with them. 
"Usually we fly about eight to 10 air shows per year, all across the Midwest," said Myers. "I have flown probably over 100 shows."
The Vanguards both entertain and educate the public on aviation along with the usage of ethanol as a renewable fuel. They raise ethanol awareness at each show, exhibiting how it is as effective as common aviation gas. 
"All of the fuel that we burn in our planes is 99% ethanol. We go to air shows and promote it that way," said Myers.
Myers found that educating others on aviation is vitally important to him and the future of the industry itself.
"This is mainly a hobby, but it is also a passion to promote general aviation to the public," said Myers. "General aviation is always changing. Right now, there is a huge demand for pilots, and that is different than it was 10 years back."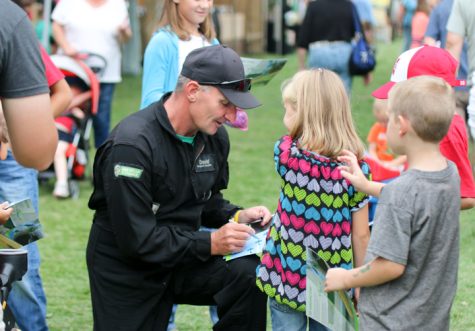 On top of this, Myers formed his own lessons and mottos out of what he learned from aviation throughout his numerous years of experience.
"The motto I have is the more you practice, the luckier you get," said Myers. "We just try to be the best we can."
Myers blends what he learned from flying with his counseling strategies, connecting with kids and benefiting LHS. 
"Aviation is all about you, determination and getting to where you want to be. Sometimes that affects me working with students," said Myers. "I try to pass on the dedication, drive and commitment that you have to have to do something that you want to be successful at."
Myers takes pride in his role in the Vanguards and will continue heading the squadron and learning more about himself through aviation.
"The team is really good," said Myers. "I am just proud to be a part of it."