'Late Night Boomin': Comedy talk shows meet the Midwest
In Oct. 2021, "Late Night Boomin" debuted in Sioux Falls with a pilot episode, bringing the ever-growing late-night talk show format to a new setting. Soon enough, Jack Unruh found himself hosting monthly episodes in front of a live audience.
Unruh, a Sioux Falls native, first created the show while in college. He wanted a local variation of the late-night comedy shows with celebrity hosts who have entertained audiences nationwide for decades. 
"I was watching some Jimmy Fallon, and I just thought he had the coolest job, so when I went to college, I thought, 'why can't we just do it?' So, I gathered some buddies, and we started filming," said Unruh. 
After the outline for "Late Night Boomin" materialized, Unruh partnered with Zach Dresch, a local comedian. As co-host, Dresch contributes to the hilarity of the various sketches and interviews that the show entails. This relationship is similar to that of Fallon and Steve Higgins on "The Tonight Show." The team also found their performance space at the Belbas Theater in the Washington Pavillion, a staple in downtown Sioux Falls. At each taping, there is an audience and live music by a local band formed for the show called the Late Night Boomers. Throughout the past year of developing and taping the episodes, Unruh has discovered how vital a laugh can be to the community.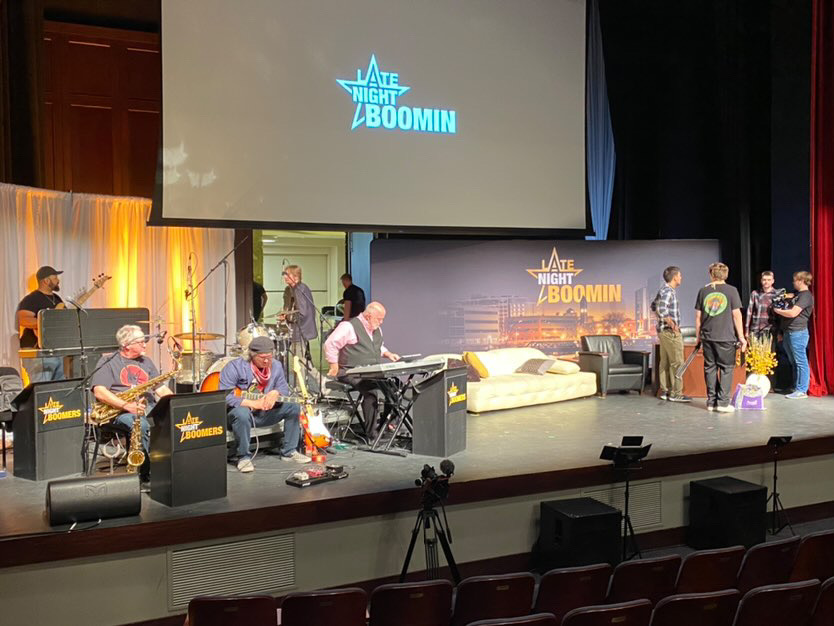 "Our goal with LNB is to showcase others and lift people up," said Unruh. "We hope to inspire people in a fun and lighthearted way and to show that there are so many cool things going on around here."
After-hours entertainment often clings to populous urban centers, making a smaller Midwestern city like Sioux Falls a more unique choice for a show. However, the growing culture and population of the city allow for a blooming arts community that will welcome projects like "Late Night Boomin." 
"We love Sioux Falls. South Dakota is such a great place for growing and getting connected and involved with great people," said Unruh. "Plus, we all grew up here. We couldn't think of a better place to do this from."
Brand-building and publicity are fundamental aspects of creating any form of entertainment, and "Late Night Boomin" is no exception. When thinking of an attention-demanding name, Unruh immediately thought of his college experience.
"In college, we always said our dorm hall was 'always boomin.' So, when we were trying to think of the name for this late-night show, we wanted to make it just as 'boomin' as our dorm," said Unruh. 
On Sept. 10, 2022, Unruh and the team behind "Late Night Boomin" announced they would begin airing their episodes on Dakota News Now, a local TV station. With this new development, a multitude of audiences around the state could tune in to enjoy and learn from each episode.
"We pitched the idea to the station, and they saw the potential in what we were trying to do," said Unruh. "We talked with them about what doing a season on TV would look like, and they were generous enough to give us air time."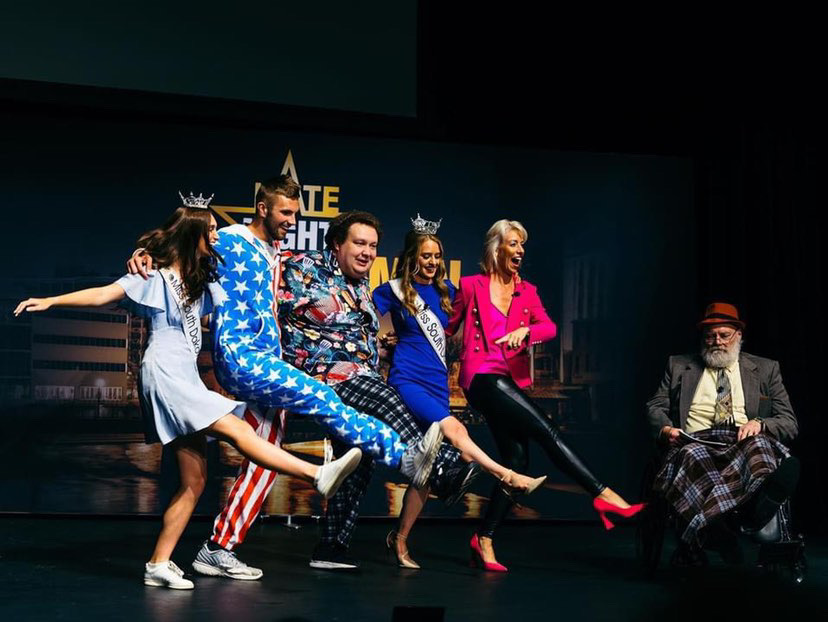 Even with this success in the show's production, Unruh has faced numerous challenges in getting the episodes from script to air. 
"The challenges have been two things: money and time. The show costs a lot of both to produce, and those two things are always the hardest to come by," said Unruh.
In the face of these obstacles, Unruh gained an appreciation for every episode that he and his team could pull together. On top of this, the live audience at each taping contributes to the liveliness of the show, and he enjoys hearing their laughter every time he steps out on stage.
"There are so many different people from so many different parts of life, and seeing all of the laughter and joy that it's brought is what makes it so worth it," said Unruh.
On Dec. 29, 2022, "Late Night Boomin" taped the season one finale, with an audience gathered to experience the close to a high-energy season. While a season two is not guaranteed, Unruh is thankful for the connections and experiences he gained through hosting the show.
"We're just finishing up with season one, looking at hopefully starting season two. It will take a lot of prayer and people to come together to help continue this show," said Unruh. "It's been a great experience either way."