A trip back in time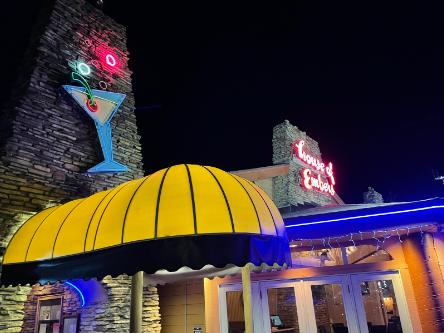 What would it be like to travel back in time? There are so many differences between the past and present. Altered decorations, actions and trends. It is impossible to travel back in time, but going out to eat at a "supper club" is pretty close to it.
Supper clubs originated in the early 1900s and became much more popular in the mid-1900s. They were sought after for their ambiance and delicious food. These dinner-only restaurants lost attraction as other dining options were created. However, there are still countless supper clubs remaining in Wisconsin. These leisurely restaurants have kept their original style throughout the years. Between the low ceilings and antique decorations, dining at a supper club feels like walking into the past. 
Relaxation and laughter fill the supper clubs at every moment. When arriving, typically there will be a lengthy wait for a table. People stroll to the bar area without a care in the world, excited to make new connections with others and laugh all night. After many conversations with strangers, the table is ready and it is time to eat delicious food. Bread baskets sit on every table. There are often specials on certain days as well. Many individuals that attend these supper clubs are regulars who linger there all night. They are there to relax and let loose after a long day. 
In my experience, going to a supper club is a unique and enjoyable adventure. It is amazing to see all of the details in architecture, layout and design of the restaurants that make them so incredible and one of a kind. Interior design aspects bring the 1970s to life in supper clubs. For example, carpet on the walls, private rooms for two to eat in, a round bar/hang out area for people to wait for their table and more. 
So, while traveling back in time is not possible, going out to a supper club is a close second. They have mastered the details that make visitors feel like they are back in the 70s. Their perfected ambience sets the tone for relaxation and mindless chatter. It is a special experience that feels apart from reality. If given the opportunity, I would definitely recommend experiencing the laid back and unique atmosphere of a supper club.