Student activists fight back against House Bill 1080
After the introduction of House Bill 1080 in the state of South Dakota, LHS students Elliott Morehead and Ayden Gage took a stand against the state legislation affecting the transgender community in South Dakota.
HB 1080 was introduced in Jan. 2023 by District Nine Representative (R-Sioux Falls) Bethany Soye. The bill makes it illegal for health professionals in South Dakota to perform "certain medical and surgical interventions on minor patients," as well as "prescribe or administer to a minor, any drug to delay or stop normal puberty," thus banning all gender-affirming surgeries, hormones and puberty blockers for all minors. Any minor using these prescriptions is required to terminate their use by Dec. 31, 2023.  
Morehead, a junior at LHS, immediately knew that this bill would deeply affect the transgender community in South Dakota. They are passionate about protecting the LGBTQ+ community from legislation like HB 1080 because they are a part of this very same population. 
"I am a genderqueer, transgender student here at LHS. I'm very passionate about activism and human rights and all advocacy work. When HB 1080 came out, I knew that I had to advocate against that because it affects so many in my community," said Morehead.
HB 1080 has received backlash across the state since its introduction including protests in Sioux Falls, Rapid City and Brookings, South Dakota. While proponents of HB 1080 claim that it is necessary to prevent surgeries like this from happening, those who oppose, including much of the transgender community, state that these surgeries are simply not happening to the extent that many think and that surgery and puberty-blocking drugs are not so easily accessible. Morehead acknowledges the state's reasoning behind the bill but is unconvinced that South Dakotans should be concerned about this issue.
"We're not trying to oppose this bill because we want surgeries to happen. I believe personally that no one should have their surgery until they're fully grown because damage can happen," said Morehead. "I'm not mad about that part of the bill, but you also have to realize no one's doing it. It's not a bill that we need; that doesn't happen."
LHS senior Gage often partners with Morehead in advocacy efforts, and they agree that the emergence of these bills follows in the footsteps of other states that have already banned gender-affirming care such as Utah, Texas and Tennessee.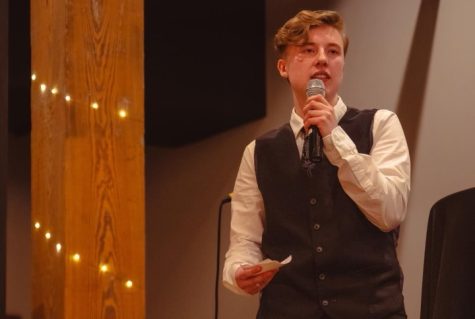 "These bills are coming out because [legislators] want these controversial bills so that they can get a bigger name. If you propose a controversial bill, everybody in the nation will hear about it. That gives you a name," said Gage. "These people are working to try to make it into our federal government instead of our state government."
National influences aside, South Dakota has a history of proposing bills regarding transgender youth. In 2022, Governor Kristi Noem signed Senate Bill 46, which banned all transgender women and girls from playing sports within their gender division at schools and colleges. HB 1005 was also introduced in 2022 which proposed to prohibit transgender students from using the school bathroom consistent with their gender identity; this bill was passed in the House but was defeated in the Senate.
Joined by Gage, Morehead gave testimony on Jan. 31 in front of the House Health and Human Services Committee in hopes of persuading them to vote against the bill. In their speech, Morehead included their personal experiences, including how long it took them to get a letter from a mental health professional to start hormonal therapy, also known as an HRT letter.
"It took me six months to get my HRT letter, which only gets me to start talking to a physician, and that would be months later. And then months later I might be able to start talking about gender-affirming treatment and receiving that," said Morehead. 
Even after this effort, the bill passed 11 to two. It continued to pass in the House, Senate Health and Human Services Committee and the Senate. On Feb. 13, Governor Noem signed the bill into law and it will take effect on July 1, 2023. Now, Morehead and Gage feel as if the discrimination that they experience in public has traveled into the Capitol. 
"
Now with this legislation, not only are you struggling being bullied by your peers, now your legislators are doing it too.
— Elliott Morehead
 "If you're LGBTQ+ in South Dakota, you're used to being called slurs. You're used to having looks," said Morehead. "Now with this legislation, not only are you struggling being bullied by your peers, now your legislators are doing it too. That deteriorates kids my age, and I'm not gonna stand for that. That's why I went to Pierre to show the legislators that we're not going to back down."
Although this might be seen as a setback, Morehead and Gage know that this is only the beginning of their advocacy efforts and nothing will keep them from fighting for their community.
"This is why politics are so important. I know it's a struggle. I can validate why someone would not [participate], because it's a lot, especially if you're marginalized," said Morehead. "But as a general population, if we focus on the values we hold in South Dakota, and actually incorporate those into passing the right bills, then we will make progress."
This type of legislation commonly pushes LGBTQ+ individuals to other states where they often feel more accepted; however, Morehead is passionate about staying within the state to advocate for their community.
"At first I [wanted to move away from South Dakota], but then I realized that I love advocacy, I realized that where my roots are is a place where I can make the most change…I'm not going to leave the next generation behind. And it does feel harsh in this community, but there are organizations and people always around you just have to look for them," said Morehead. "I am the founder of South Dakota Youth Activism, which is a nonprofit, soon to be 501(c)(4), that is building up a coalition of teens and young people around the state to start bringing a youth voice to activism in our legislation." 
Morehead and Gage want people to know that anyone can make a difference, no matter their age or background; they hope that promoting youth activism will bring change into the state. While this change might take much time and effort, Morehead and Gage discovered that no matter how hard it may seem, they will always find support even in the most unlikely of places.
"If you are afraid to come out or be loud, just realize that you will find support in the places you won't expect," said Morehead. "There will always be support. No matter where you are and who you are."