A tribute to my trio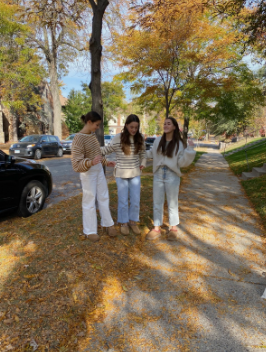 I think the ultimate goal in life is to find your people. The people who truly understand you. The people who will show up for you no matter what. The people who you can count on, and who will be your rock. When I reflect on the relationships in my life, I feel utterly confident in saying that I have already found these people. My trio tried and true, Tori and Haylee, this is for you.
Dear Tori and Haylee,
 Our friendship began back in the pubescent years of middle school. That time in our life is filled with awkward interactions due to the never-ending feat of trying to fit in. Tori, being twins we obviously met way back in the womb. Although it was inevitable we would be living together, our friendship was not guaranteed. You have been by my side since the very beginning and for this, I am forever grateful. Haylee, I can recall always knowing of you through mutual friends; however, I was not blessed with your radiant energy until our eighth-grade year. Thanks to our lackluster volleyball skills back then, the three of us were all placed on C-Team together. This, however dreadful at the time, planted the seed of one of the best things I have ever been a part of. 
I want to thank you both for never leaving my side. The formative years of middle school and high school presented challenges for each of us. There were many times I felt scared and unsure, but I was able to sleep soundly at night knowing our friendship is one of the good ones. One of the lucky few that can withstand the inevitable. When my life felt like a balancing act, I knew you two would always be there to level me out. You keep me sane, which is not an easy task, and therefore you deserve the biggest thanks.
When I look at us, I truly see three parts of one whole. Three flowers that were picked from the same garden. Sometimes it scares me how similar the three of us are. There are so many aspects of our personalities that coincide with one another yet when you put us all together, our individual aspects still shine through. I love how our personalities do not clash, but rather mesh so beautifully. You guys get me in a way no one else ever has. Without even having to complete my thoughts or speak them at all, I know you two will understand. 
I cannot begin to wrap my mind around no longer being with you guys next year. You have created such a fondness in my life that I will never be able to replace. I know I will form new bonds, but nothing will ever be able to compare. I love you both and will miss you every single day next year. Do not forget about me. 
Love, Adrienne