For the past five years, groups in downtown Sioux Falls have commemorated Aug. 31 as International Overdose Awareness Day by attending a vigil hosted by Emily's Hope, honoring those whose lives have been lost to drug overdose.
Emily's Hope is a South Dakota-based nonprofit founded in 2018 by Angela Kennecke after her daughter, Emily Groth, passed away from fentanyl poisoning. Since then, the charity has appeared on local and national news, spreading the word about drug use and overdoses. From addiction treatment scholarships to prevention education resources, Emily's Hope has centered itself around raising awareness and destigmatizing drug addiction. Kennecke hopes to provide others with drug addiction support to prevent overdose, all while honoring her daughter.
"Emily was a vibrant, beautiful and intelligent young woman who had a zest for life. She was an honor student, athlete and talented artist," said Kennecke. "However, she tragically fell victim to fentanyl poisoning when she used what she thought was heroin. Our family was just three days away from holding an intervention to get Emily into treatment when she died. It's a heartbreaking loss that underscores the devastating reality of substance use disorder and the threat of fentanyl in the illicit drug supply."
Even when grief threatened to take over her life, Kennecke used her experience as motivation to help those suffering from addiction. Treatment does not always seem feasible for those seeking help with substance abuse; Emily's Hope seeks to help eliminate the barriers that may prevent people from getting the care they need. Kennecke finds that navigating the intricate web of healthcare and treatment options poses a daunting task. In addition, many rehabilitation facilities do not provide rates adjusted to income, accept Medicare or offer free treatment for those who cannot pay. Some facilities can cost $30,000 per month, creating a challenge for families. 
With this goal in mind, Emily's Hope has pledged over $250,000 toward treatment scholarships since Dec. 2019. On top of this, the charity recently pledged an additional $100,000 to expand treatment scholarships to the new South Dakota-based Avera Addiction Care Adolescent Program. Now, the charity has granted 167 people, ages 19 to 70, treatment scholarships for addiction care.
"In the wake of Emily's loss, I was driven by a deep need to prevent other families from experiencing the same kind of pain. I wanted to do something that would honor Emily's memory while providing tangible assistance to those struggling with substance use disorder," said Kennecke. "Emily's Hope aims to remove the financial and social barriers that often prevent individuals from seeking help." 
Confronting an epidemic is not without its challenges. Kennecke believes that stigma is one of the most significant barriers in the treatment process and that shame and fear of judgment prevent those in need from reaching out. Only 18% of individuals with drug use disorders receive addiction treatment, underscoring the problem Emily's Hope is working to solve.
"I want people to know that substance use disorder is a medical condition, not a moral failing," said Kennecke. "Raising funds and awareness has always been a challenge, given the stigma associated with substance use disorder." 
Throughout South Dakota, many know Kennecke from her 33-year-long career as a TV journalist at Keloland TV, a CBS affiliate located in Sioux Falls. Kennecke had years of experience reporting on overdoses, but she never expected how deeply it would affect her life.
"
It's one thing to report on the statistics and quite another to become one.
— Angela Kennecke
"As a newscaster, you approach stories with a certain detachment; you're relaying information, not living it. Experiencing it firsthand has turned a story into a mission for me," said Kennecke. "It's one thing to report on the statistics and quite another to become one."
In 2021, fentanyl and stimulant-related fatal overdoses in the U.S. were 50 times what they had been in 2010, a reflection of the ongoing opioid crisis, which kills more than 100 people daily. For Kennecke, it is crucial that the public understands the lethal risks of fentanyl, which can kill in small doses, and the need to confront the crisis as a community.
"The fentanyl crisis has escalated exponentially, often being mixed unknowingly with other drugs," said Kennecke. "Its potency and the speed at which it can cause an overdose make it particularly dangerous, requiring immediate and targeted interventions. Overdose deaths among teenagers have doubled in a three-year period due to fentanyl."
As with any crisis, there are misconceptions; Kennecke wants teens to know that dangerous situations can befall anyone who uses drugs, no matter how safe or comfortable they may feel. 
"Many believe that 'it won't happen to me' or 'it's just a phase.' This mindset is dangerous," said Kennecke. "It's crucial to understand that fentanyl can kill you the first time you use it and that fake prescription pills almost always contain fentanyl. Kids seem to be comfortable taking pills, but they need to be warned to never take anything they didn't get from a pharmacy or trusted adult."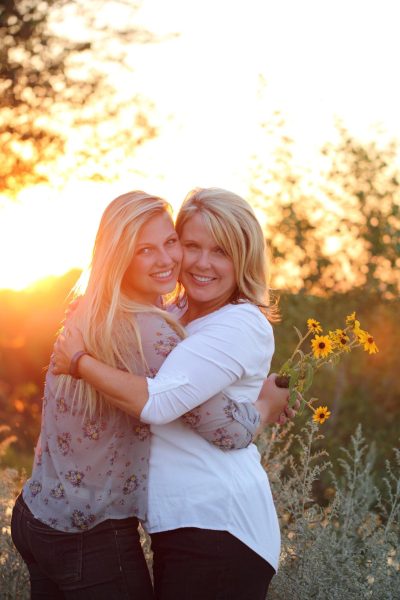 Prevention is key for Emily's Hope; Kennecke plans to educate children from a young age, which will help them to make better choices and ultimately keep them from developing substance disorders in the first place. She is starting with a curriculum for elementary-age children that will teach drug use prevention.
"I'm also very excited about the newly launched Emily's Hope Substance Use Prevention Curriculum for grades K-5. I think if you equip children with age-appropriate life-saving information we can significantly reduce the number of people who suffer from substance use disorder and those who die from fentanyl poisoning/overdose," said Kennecke.
Of course, there is always more work to be done. Members of Emily's Hope organized the Sioux Falls vigil on Aug. 31. Meanwhile, Kennecke visited the White House to speak with members of the White House Office of National Drug Control Policy (ONDCP), the Centers for Disease Control and Doug Emhoff, Vice President Kamala Harris' husband. Joined by other overdose awareness advocates from across the nation, Kennecke shared her own story and presented materials from her elementary curriculum. The Biden Administration then announced a $450 million increase in funding to combat the overdose epidemic. After seeing the difference that Emily's Hope has made, Kennecke feels it will take everyone's participation to make overdose awareness more prominent.
"Awareness is crucial, but so is action. Advocate for sensible policies, support harm reduction strategies and educate others. And most of all, have compassion for others. We all have a part to play," said Kennecke.
For Kennecke, it is all about seeing the work Emily's Hope has accomplished on both national and local levels.
"Knowing that Emily's Hope has saved lives and made treatment possible for people who might not have otherwise had the chance is deeply gratifying. It turns our tragedy into a source of hope," said Kennecke. "It has taught me that one person can make a difference. However, it has also shown me how far we have to go in fighting the stigma and improving treatment options. It's a marathon, not a sprint, but every step counts."
"
We won't rest until we dismantle the stigma and make recovery an attainable goal for everyone affected by substance use disorder.
— Angela Kennecke
Kennecke continues to push for change and the provision of hope to those who need it, keeping her daughter in mind every step of the way.
"Emily's Hope isn't just a charity; it's a lifeline and a beacon of hope for those who have none," said Kennecke. "We won't rest until we dismantle the stigma and make recovery an attainable goal for everyone affected by substance use disorder."