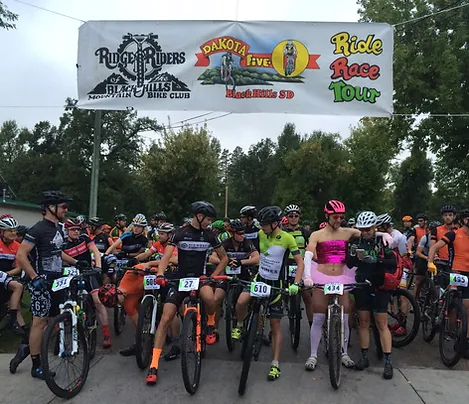 Imagine a ride stretching 50 miles through the Black Hills National Forest. Covered in dirt, sweat and maybe a little blood, the race is finished in times varying from three to eight hours. 
The Dakota Five-O is a yearly mountain bike race held in Spearfish, South Dakota. Founders and lead organizers Perry and Kristi Jewett host every year on Labor Day weekend. The first race was in 2001 and saw only 89 racers. Now, the race sells out to its max entries of 800 racers in just two hours. The Five-O is extremely popular but also extremely difficult. According to the Five-O website, "*WARNING: THIS IS A MOUNTAIN BIKE RACE, if you are not fit, have health issues or are not an avid rider of singletrack, please consider whether you should ride in this race or not. It is a challenging 50-mile course, with some technical sections, and consists of about 90% singletrack with 6500+ ft of climbing!" Not just anyone has the ability to complete the race. Some of the best racers go in and end up being unsuccessful with speed and time. 
 "Make sure to get some good riding in if you plan to do this race. It is a hard 50 miles of mostly single track, so if you don't put in the miles, you more than likely won't be able to finish," said Jewett, who also encourages a good nutrition plan and learning from others. "Talk with other riders who have done the race for advice, it is always a good idea as well."  
The designated race course includes fast and flowy sections, steep and challenging climbs plus some beautiful views. Along the way, there are four aid stations to fuel up, with one of them being the well-known bacon stop. Here you can enjoy some crispy bacon after riding approximately 40 miles before you finish out the last 10.  On even-numbered years, the course is ridden clockwise, and on odd-numbered years, counterclockwise. This way racers can enjoy something a little different every time. 
The most important thing to Jewett and the crew, apart from the race, is rider safety.
 "Rider safety is our number one priority, and the Spearfish Ambulance has done an incredible job helping us with this aspect," said Jewett. 
 With the way the course is designed, racers have to cross roads and areas that are high traffic. Volunteer help is critical in keeping bikers safe throughout the event. 
"We have a few key helpers as well as around 75 volunteers who help out on race weekend," said Jewett. "Also the amount of trail work we do has increased over the years. Our course was devastated by a tornado in 2018 and 2020. We also have had lots of rain this year so it was lots of brush mowing and trimming back trees to open the trail corridor." 
Race prep is a big part of the success of the event as well. 
"We start preparing for the next year's race as soon as the current one is over… It takes several weeks before the race is truly wrapped up," said Jewett.  
Updating websites, registration, course info and advertising for the upcoming year happens subsequently to the finish as well as the cleanup which is done alongside Spearfish City Park. 
Not only is the Dakota Five-O a race, but it is a community too. Ultimately, racers have the most fun with the people they are with.
"Our favorite part is what we like to call old friends, new friends, and where you have been friends," said Jewett.
 The volunteers and organizers love getting to know the riders and their anticipated return each year.
 "We love bringing the community together to celebrate riding bikes, and it's always great to hear stories of the challenges and triumphs that riders endure for the day," said Jewett. "It really is a Five-O family to us."